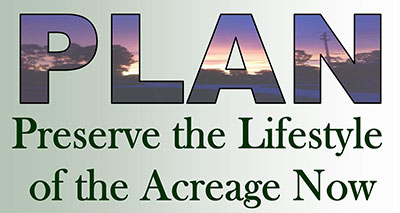 With a feasibility study in hand on the merits and disadvantages of The Acreage incorporating as a municipality, members of Preserve the Lifestyle of the Acreage Now (PLAN) will host a meeting on Monday, Dec. 12 to go over the study and invite public input.
The meeting will be at the Acreage library (15801 Orange Blvd.) at 7 p.m.
"Our feasibility study is complete, and we have a meeting coming up," organizer Brett Taylor said. "Our feasibility study was done by a group of professors at Florida Atlantic University. It was not as much as we were first told it would be, for roughly half of what it was supposed to cost."
The purpose of the Dec. 12 meeting is to go over the feasibility study page by page and answer whatever questions residents have, Taylor said.
"The feasibility study really comes down to an initial budget for the proposed municipality, and it projects out five years to show the costs and the revenues that would be generated if we actually are incorporated. We want the people to see exactly what it says," he said.
By the end of January, the group will start a series of meetings to go over a proposed municipal charter that is currently being drafted.
"That will also be gone over page by page, and we welcome as much public input as we can get, from anybody willing to share ideas," Taylor said. "We'll go through it page by page, line by line, and the more public interest and public input, the better."
Taylor said that the members of PLAN have done lot of homework studying the pros and cons of incorporation.
"People don't realize the hours we spend," he said. "I've been on the phone with various elected officials from other cities, mayors, town administrators. We read multiple charters from other municipalities to really get an idea of what ideas are good and what ideas are not. Is there such a thing as a perfect charter? Probably not."
He said a charter review board would be created to go over the charter after a year and suggest whatever changes need to be made.
Taylor noted that Palm Beach County staff and elected officials have remained neutral on the incorporation effort, although they do not appear to be in opposition.
"They were very concerned at the GL Homes meeting that any agreements that were made with GL Homes regarding [the] Indian Trail [Improvement District] would not affect The Acreage's ability to incorporate," he said. "The consensus was it would not."
Along with public participation and donations, Taylor said he would appreciate volunteers to come forward.
"We're making progress, and I think people will be pretty impressed with the study and the things that could be available to us in terms of revenue," he said. "I know I was impressed; I was shocked."
Taylor said that he has talked with officials in Loxahatchee Groves, which incorporated 10 years ago, as well as Wellington officials involved with the village's incorporation in 1995.
He talked to former Loxahatchee Groves Councilman Dennis Lipp, one of the leaders of that community's incorporation effort, about the process.
"A lot of the revenue sources are based on population," he said, pointing out that Loxahatchee Groves, which gets a great deal of money from revenue sharing, has only about 4,000 people, and The Acreage had almost 40,000 in the 2010 census. "It's a long process. It's going to take time, but we're willing to put in the work."
Taylor said that PLAN is seeking donations to support the incorporation effort.
"We don't have the money to do some of the things we would like to," Taylor said. "We still struggle to do advertisements and promotion. Our web site is not all it should be. We're working on it so it will be more functional, so people can get more information. We're working to get more information out. I think that's one of the criticisms — that we're not working hard enough to get information out to people. However, it's expensive. We purchased signs at one point. We don't know what happened to them, but they were removed. That was hundreds of dollars. We certainly can't afford radio or TV ads."
He said the group is depending on word of mouth and social media to get the word out.
For more information, search for "Preserve the Lifestyle of the Acreage Now" on Facebook.