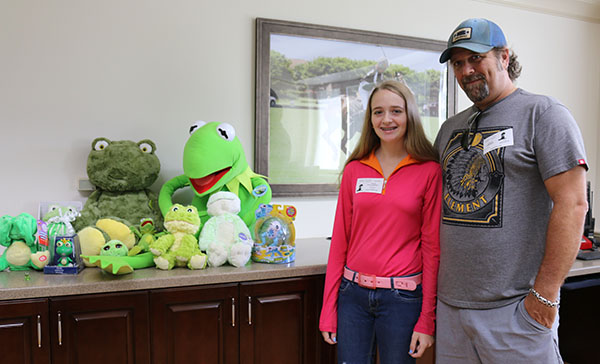 By Shayna Tanen
When Lily Gumbinner's horse tripped and fell on her hip, she went to Palms West Hospital for surgery. When the 14-year-old left the hospital in early December, her health was with her, but she was missing something: the stuffed animal she's had since birth, Froggy.
That's why on Friday, Dec. 23, Palms West Director of Environmental Services Michael Pace coordinated a surprise for Lily.
"We were on a mission to recover her green frog because it meant a lot to her," Pace said.
Pace notified the hospital's laundry of the missing frog, he said, and when it never showed up, he asked the directors of the hospital to help replace Lily's frog.
"I've just had him for a really long time, so that's why he's special," Lily explained.
Pace coordinated for Lily and her father, Joshua Gumbinner, to visit the hospital last Friday, but he didn't say why. When Lily and her father arrived and saw a dozen toy frogs at the hospital just for Lily, they were surprised and happy.
"I thought it was cool that they were able to do that, since they couldn't find the actual Froggy," Lily said.
Though new toys can't replace Froggy, Lily said that she will fondly remember the surprise that the hospital coordinated for her.
ABOVE: Lily Gumbinner and her father, Joshua Gumbinner.