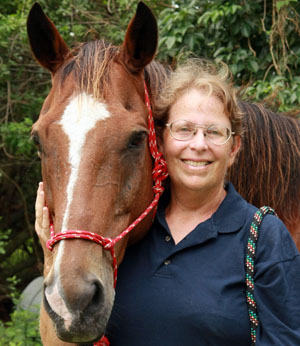 TALES FROM THE TRAILS
Many horse-related properties and business in Palm Beach County have changed or disappeared over the years, which makes Johnson's Folly Horse Farm doubly enjoyable. It has been there, in the same location and offering the same great services, since 1991.
"I bought the first three acres back then," owner Nongae Johnson recalled. "It was a hobby farm surrounded by small houses. The other five acres became available when the owner was caught flying in marijuana. He lost all his possessions under the RICO Act, and I was lucky enough to buy the property from the Elks Lodge, which had gotten it after the seizure. We've done quite a lot of work and renovations since then."
As for the unusual name, Nongae laughs as she recounts her father's long-held but unrealized ambition to write a book called "Johnson's Folly."
"A folly is some ridiculous expenditure," Nongae explained. "And doesn't that perfectly describe owning a horse farm?"
Located at 14052 52nd Avenue South in Delray Beach, Johnson's Folly Horse Farm sits between Interstate 95 and Florida's Turnpike — 30 minutes to the Wellington show grounds and 3 miles west of downtown Delray Beach. The business offers boarding and lessons in hunter/jumper, dressage and western for riders of all ages and levels of experience.
There's a lot packed into those 8 acres: 34 12-foot-by-12-foot stalls, two round pens, a covered arena, a full jump course arena with lights, three dressage arenas (two with mirrors), lots of turnout paddocks, wash racks, tack rooms, and a quarter-mile horse run and large turnout. "It's all very organized," Nongae said. "No wasted space."
Standard full board includes daily turnout in private paddocks, hay three times daily, grain twice daily, and bran mash on Wednesdays and Sundays, automatic water basins and periodic stall cleaning throughout the day.
Lessons are available on your own horse or on seasoned, safe, school horses. "We're dedicated to our students and always practice safe horsemanship. We offer private and group lessons for both children and adults in all the different disciplines, beginner through advanced. Natural Horsemanship is also a favorite at our farm and helps build a good relationship with your horse," Nongae said.
Other offerings include summer camp, birthday party packages and Pony Club Camp, for ages 4 and up, offered every Saturday from 9 a.m. to noon. Campers participate in a half-hour riding lesson and other horse activities such as grooming, saddling, bathing and feeding.
Karen Barsky boards her four miniature horses at Johnson's Folly. "I live five minutes away, so it's super-convenient," she said. "I love how organized everything is. This is a terrific barn."
Elaine Oliver keeps her horse, Bob, there as well. "I've been here a few years," she said. "I like how on top of everything they are. They always keep an eye on the horses. It's very personalized. They'll text me if they see that Bob looks a little off or not quite right. Everyone is nice to everyone else, so I enjoy the relaxed atmosphere. It doesn't matter that I ride western and someone else might ride dressage. No one is exclusive or competitive."
Debbie Mantel has kept her horse, Rocky, with Nongae for the past three years. "I used to ride hunter jumpers, but after I had two knee replacement surgeries I switched to dressage," she said. "I never want to give up riding, and Nongae helped me find special stirrups which aid my knees, and also special reins which work despite the arthritis in my hands. She also taught my horse to accept my mounting from the off-side, because one of my knees doesn't bend too well. All of this to help me keep riding."
Debbie is very grateful for all the help offered by the barn.
"When I was home recuperating from my surgery for eight weeks, I didn't worry one second about Rocky. I was very confident that he was well taken care of," she said. "Everyone is knowledgeable and professional. The wonderful, friendly atmosphere brings out the best in everyone."
Johnson's Folly Horse Farm also offers therapeutic programs and is a member of the Professional Association of Therapeutic Horsemanship International (PATH), a nonprofit formed to promote equine-assisted activities and therapies for individuals with special needs.
They're a host barn for Horses Healing Hearts, a not-for-profit organization dedicated to bettering the lives of children of alcoholics and substance abusers through equine experiential learning.
Founded by Liz Olszewski in 2009, Horses Healing Hearts helps children raised with addiction in their home by working with horses. They teach empowerment plus life-coping skills, and help clients build self-confidence by learning about horse care and riding. Nongae enjoys being affiliated with such a fine program and enjoys giving back.
"We're kind of a special barn," Nongae said. "Even though we're almost in the middle of the city, we retain a comfortable country feel, very private and personal. There's no drama, no cliques. Everyone is relaxed and friendly and willing to help or just stop to chat. We do a little of everything."
To learn more about Johnson's Folly Horse Farm, call (561) 499-6383 or visit www.johnsonsfolly.com. To find out more about Horses Healing Hearts, visit www.hhhusa.org.