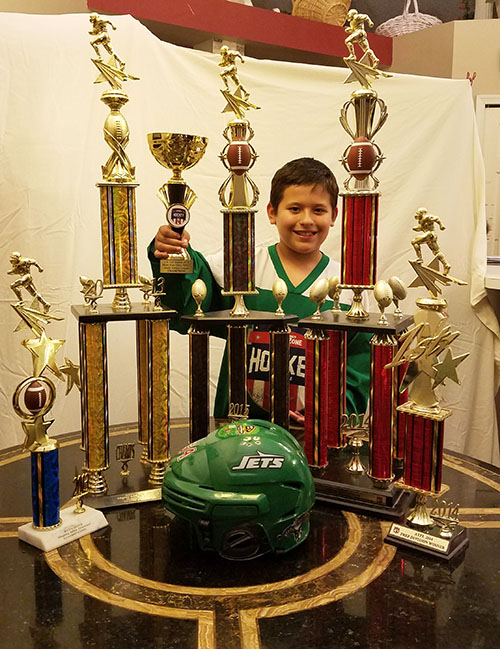 Nine-year-old Max Pedraza's trophy case is filling up quickly.
Not only does The Acreage resident have trophies from his 2013, 2014 and 2015 Acreage Tackle Football League championship games, he recently added another large trophy to his collection. Only this time, instead of running on a field, he has been flying across the ice. His second sport is ice hockey.
"I was watching the players on TV and thought it would be a cool sport," Max said. "I was watching the Panthers."
In the 11U Squirts division, Max is one of the Jets. On Saturday, Dec. 17, the Jets, the underdogs seeded last, played against the first-seed Dolphins, and scrapped their way to a 1-0 win. The next day, they defeated the second-seeded Bills 5-0 to become the 11U division champions. His teammates come from all over the area.
Max — a left- or right-winger — wasn't sure if they'd win or lose, but the team played their hearts out. Their goalie blocked 45 shots in the Saturday game. It felt "awesome" to win, Max said.
His father, Rick Pedraza, is very proud.
"Max said to me a few days after the game, 'Dad, when there was 5 seconds left on the clock, I realized we had won the championship and I was going to add a hockey trophy to my football trophies.' As his dad, it was crystal clear to me that he grew up a lot in those 5 seconds. He realized the power of dreams, when we discussed his football titles and dreamed of adding a hockey title. The power of dreams — that dreams come true if you follow them through," Rick said.
What's special about Max's wins is that not only did he switch from football to hockey, his teams won four consecutive championships.
It all started several years ago. At Acreage Community Park, Gary Holmes coached Max for three seasons. In 2014, Max took to the ice and skated in Mosquito and Mite leagues, as well as taking on a season of Pond Hockey. In 2016, he moved up to the Squirt league, with coach Steve Sagas.
"Max is a very dedicated, responsible and committed kid. He routinely gets up at 5 a.m. to head to the rink for private lessons along with any stick-and-puck sessions he can attend," his mother Trish Pedraza said. "Every weekend consists of early practice on Saturdays and hockey games on Sunday. In addition, he attends music lessons every week and band practice to learn the keyboard. Through all this, he maintains a consistent high honor roll at the Renaissance Charter School at Palms West."
Hockey, Rick explained, isn't the most popular sport in the area. Many kids in The Acreage play baseball. However, Rick's father was a racecar driver, so baseball wasn't big in his household.
Up until this year, Max, who has been on skates since he was 6 years old, competed in both hockey and football, but chose to focus on hockey this season. For enjoyment, he reads, practices his keyboard, plays video games, shoots his pucks outside for practice and watches NASCAR racing, where he is a Kyle Busch fan, Trish said.
Playing sports runs in the family. Max's twin sister has completed her first year in figure skating and played a season of roller hockey. She won the division and the Super Bowl during the 2013 flag football season, Trish said. In addition, she participated in both baton and cheerleading, and her teams won first place in both. She also is an honor roll student.
"I am a very proud mom. I had my heart in my hand during that hockey championship game of Max's," she said. "He knew that once the fourth goal was made with two minutes remaining, they were going to win the cup. At the last few seconds, the coach's son scored the fifth goal and the buzzer went off. All the boys went crazy celebrating."
It has been a long season, she said. "But it has all been worth it to see Max achieve so much," Trish said. "We are taking a bit of a break, but plan on doing it all over again in a few months."
Max is looking forward to trying out for the spring travel hockey team, which he hopes to make.
"I love it," he said. "The best thing about ice hockey is that I feel free on the ice when I skate."
ABOVE: Max Pedraza surrounded by his football trophies and his new hockey trophy.