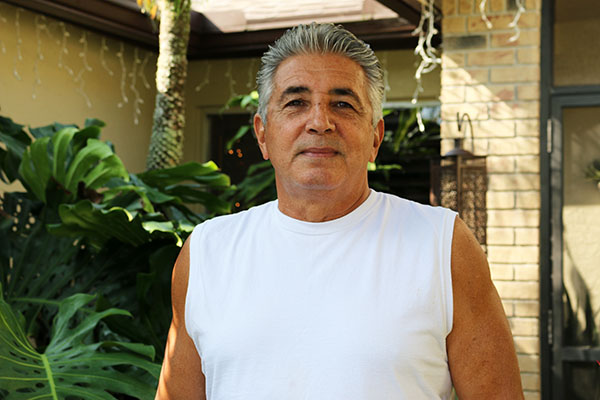 By Shayna Tanen
Get Gary Scittorale going on a topic, and he will tell you from personal experience all about it. He prides himself on his sales ability, but it doesn't take much for him to convince people to buy his tiny homes.
Scittorale, of Royal Palm Beach, is the owner of Tiny Homes 2 Buy, and he specializes in providing custom tiny homes at a low cost.
He wasn't always a home builder, let alone a tiny home builder. Gary and his wife, Mindy, owned a paint and design business on Royal Parkway in Royal Palm Beach for 12 years. When the housing bubble burst in 2008, it took a toll on the business.
"So, we had to reinvent ourselves," Mindy said.
More recently, Gary was laid up with health problems, which kept him confined to his home for a long time. He was going stir crazy.
That is when he studied tiny home building avidly, and when he got well enough, he decided to build a tiny home completely on his own. Originally, it was just to challenge himself — to see if he could do it.
"It was therapy more than anything," Mindy said.
The home was 212 square feet, weighed 7,000 pounds and came complete with a washer, dryer, dishwasher, A/C unit and bathroom. It is permanently mounted on a trailer, making the whole thing mobile, although Gary noted that it is designed to mostly stay in one spot. Aspects like the plumbing, electric and materials of the home are built to code, he said.
Spurred on by his successful project, tiny home building has now become his passion.
Gary defines a tiny home as "an actual structure built to home specifications mounted on a trailer." The tiny home trend is a movement that has been picking up speed across the nation.
Tiny homes are attractive to people for a number of reasons, Gary said. He designs his homes to be affordable — so far his homes have sold for a low of $20,000 to a high of $35,000 — and he hopes that it allows young couples to stop renting and live on their own, as well as help senior citizens who may not have a lot of savings.
People also want tiny homes to use as guest houses or grooms' quarters, because it's a way to add rooms without making additions onto an existing home, he said. Tiny homes may also help people let go of unnecessary possessions while saving them money.
Interest in Gary's new business venture has been strong.
"The response has been great," he said. "More and more people are buying tiny homes. The tiny home movement is here to stay."
Gary has been surprised by the versatility of the concept.
"The need is greater than I thought," he said. "People talk about millennials buying tiny homes, but many other people are interested. For example, people use them for fishing cabins and hunting cabins, mother-in-law suites and even vacations homes."
Before you buy a tiny home, it's important to plan ahead and understand local zoning codes and requirements. You cannot just put a tiny home anywhere. Each jurisdiction has its own rules.
"I always tell potential buyers to check with their local code enforcement, because rules and regulations regarding tiny homes vary from municipality to municipality," Gary said.
Gary's second tiny home was sold before it was even built. Amanda Williams attended Gary's open house showing of his first tiny home, but it was too small. Gary worked with her to custom-build a 320-square-foot house for her.
Williams owns a regular-sized home in Jupiter, but began looking at alternative living spaces in order to cut costs. With her family, she looked at other builders and manufacturers — some across the country or in other states — but decided to build with Gary.
"He was local, which we really liked," Williams said. "He was affordable, but also seemed to have a really good product."
For such a small space, Williams was shocked by how much room it seemed to have.
"It's cool because we actually had the opportunity to build our own home how we wanted it," she said. "And we aren't so saddled with debt that we can still afford to have a family and go places and do things."
Gary's future goal is to build a business where he is employing people and providing affordable housing. He also dreams of starting a tiny home community, like ones that are popping up at locations across the nation.
When asked if he would live in a tiny home, Gary responded with a smile. "In a heartbeat. Me — single — you'd find me parked on a beach," he said. "I would be learning how to make those hats out of the palm fronds, and I'd be a happy, happy guy."
To learn more about Gary Scittorale's tiny homes, call him at (561) 251-8651 or visit www.facebook.com/tinyhomes2buy.
ABOVE: Tiny home builder Gary Scittorale at his home in Royal Palm Beach.