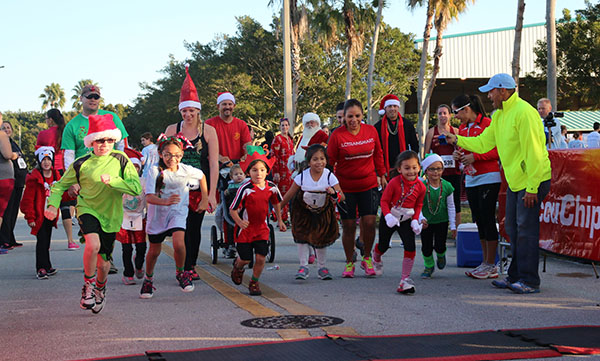 Was that a reindeer running by? Santa? An elf? At the fifth annual Wellington Jingle Bell Run 5K on Sunday, Dec. 18 at 7 a.m. at Village Park on Pierson Road, Santa, Mrs. Claus, elves and all sorts of holiday characters will be running and walking in a fun run that benefits Wellington kids in need.
Giving back is what motivated Emil Cabrera, owner of Genie's Gymnastics and chair of the run, to create this fun and colorful family-friendly winter activity.
"It's a nonprofit, and what we do is collect toys from the runners and donate them to the Village of Wellington," he said. "They're donated to the people in need over here in the area."
Everyone has their ups and downs, Cabrera explained, and when things were going well for him, he knew it was the perfect time to create the event. "There's a point in life where you have to give back," he said.
An athlete himself — Cabrera competes in triathlons — he thought that the Jingle Bell Run 5K would be a nice way to give back to the community through a toy drive.
People dress up in a holiday theme, he said, and are given awards based on unique categories, such as the first Santa, the first Mrs. Claus and the first elf to cross the line.
There's also a stroller category where both the child and the runner receive a medal.
Jingle bells are given out to the runners, too.
"It's a lot of fun. I do it for fun; I don't profit from this," Cabrera said.
Over the past few years, approximately 1,600 toys have been donated — about 400 a year. All of the toys are given to the village for its annual Hometown Holiday Toy Drive, which will be bringing holiday cheer to more than 350 children this year who would otherwise go without gifts during the holidays.
Toys for older children, such as footballs, basketballs, soccer balls and gift cards to stores such as Walmart, Old Navy and Target are always needed. Wellington's toy drive also provides toys to kids from the Kids Cancer Foundation, the pediatric unit at Palms West Hospital and children receiving infusions at the hospital.
Going to the hospital after the run and handing out toys, Cabrera said, is an amazing experience, and part of why he puts in the time and effort to make the event happen.
"The best part is to give the toys to the kids, definitely," Cabrera said.
The race always sells out, he said, and is capped at 500 runners/walkers for 2016.
Registration costs $30 per person, $20 for those 16 or younger, and $35 the day of the race. Participants are asked to donate an unwrapped toy.
The course, he added, is certified by USA Track and Field.
"Bring a lot of toys. It's all about the kids," Cabrera said.
To learn more, or to register, visit www.wellingtonholidayrun.com.
ABOVE: Youngsters take part in the Wellington Jingle Bell Run festivities back in 2014.