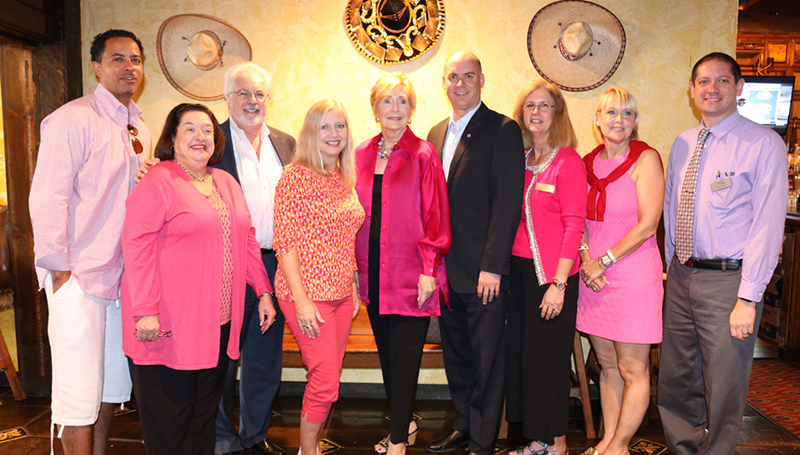 By Shayna Tanen
Debbie Petrone first volunteered with Wellington Cares, a nonprofit that assists people age 65 and older, four years ago when the organization had just formed.
On Tuesday, Dec. 6, Petrone watched as volunteers, sponsors and participants were honored at Wellington Cares' fourth annual luncheon and meeting at Casa Tequila restaurant.
Wellington Cares aims to help seniors 65 and older remain in their homes by providing essential services such as picking up groceries or prescriptions, taking them to doctors' offices, assisting with bills, simply talking to participants and more.
Nearly 60 people attended the lunch, including volunteers, participants who benefit from Wellington Cares' services, business partners and members of the board of directors, which includes Kathy Foster, Joan Manning, Marion Frank, Cheryl Anders, Dan Terner and Alan Bottorff.
Before lunch was served, Executive Director Kathy Foster announced that sponsor Extraordinary Charities had donated 50 $25 Walmart gift cards to all seniors who receive help from Wellington Cares.
Later in the lunch, Foster thanked six outstanding volunteers who dedicated their time and energy to the organization: Ann Brinson dedicated 115 hours and was named Outstanding Volunteer of the Year; Lu Croteau was recognized for always being available and with a smile to boot; Janice Downs and Christine Vocaturo each volunteered 71 hours of their time; Ellie Vogt was honored for spearheading hospitality calls and making 190 hours of service calls to participants; and Melody Domb was recognized for adding excellence to everything Wellington Cares brought her way.
Petrone said that as a volunteer, "One hour makes a big difference to a lot of people."
She said that volunteering is convenient and has allowed her to socialize with other volunteers and participants and make more friends in Wellington.
Petrone's mother, Elinor Brown, said she has benefited from Wellington Cares' help.
Her husband, Robert Brown, has dementia, and Elinor is his caregiver. But sometimes, she needs some help of her own. She said volunteers from Wellington Cares have picked up her groceries and prescriptions, which gives her more time for herself and her husband.
"Knowing I can depend on someone, I feel relieved," she said, adding, "They find everything possible to make it easier for the elderly."
By the end of lunch, several participants had won raffle items, and Foster encouraged everyone to take home the poinsettia plants propped on each table. Volunteers and participants alike left the luncheon with stomachs and arms full.
For more information about the local nonprofit, visit www.wellingtoncaresorg.com.