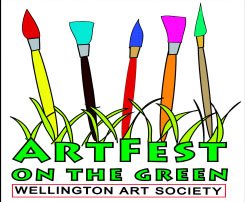 The Wellington Art Society will present its 11th annual Art Fest on the Green at the Wellington Amphitheater (12100 W. Forest Hill Blvd., Wellington) on Saturday, Jan. 28 from 9 a.m. to 5 p.m. and Sunday, Jan. 29 from 10 a.m. to 4 p.m.
Art Fest is a celebration of art, life, and bringing art and community together in a beautiful outdoor setting.
The juried fine art and craft show will feature artists from around the country showing original artwork across multiple mediums, including painting, sculpture, pottery, jewelry, textiles, photography and more.
The goal is to bring art and community together. Art Fest gives the community an opportunity to interact with the artists; learn more about their creative process, different mediums and techniques; and hear about the artists' inspiration and accomplishments.
Many artists will be working on site. The 55 fine artists participating in the festival were selected for their creativity, mastery of the technique and level of excellence.
This year, several artists will be presenting their latest art work exclusively at the show, offering originals and limited editions for sale.
Len Jagoda, elected member of the American Artists Professional League and juried member of the American Academy of Equine Artists, will unveil his recently completed commissioned painting of American Pharaoh.
"The objective of my portrayals of animals is to capture their souls. They have personalities, emotions and can reason. They endure happiness as well as grief," he said.
Jagoda creates sculptures, works in oils and pastel, and has participated in international and regional exhibitions and shows throughout the United States. To view his work, visit www.backstretchstudio.com.
Deborah La Fogg, award winning nature/ animal artist, recently won Best in Show at the National Park Art Exhibition and awards at the 16th annual Pastel 100 competition. Her pastel and oil paintings are inspired by her deep love and admiration for the environment and all things wild.
La Fogg will present her most recent work, Three Amigos. She strives to give people a glimpse of how animals live in the wild, raise their young and survive. To view her work, visit www.lafogg.com.
Illustrator, educator, award-winning artist and top show favorite Laurie Snow Hein will feature her most recent oil paintings of the Southern Landscape — alive with sparkling light and vibrant color.
Hein likes to create landscapes of Florida and tropical settings that, "you think you can walk into, feel the breeze, taste the fruit, and delight your eyes and mind with the sense of being there." Hein also accepts commissions for adult, children and pet portraits. Her work is published and licensed worldwide, and can be viewed at www.lauriesnowhein.com.
Art Fest on the Green co-chairs Leslie Pfeiffer, Adrianne Hetherington and Sandy Axelrod, along with Wellington Art Society volunteers, will be on hand to assist visitors as they navigate through the fine art selection by professional and emerging artists from across the country displaying their original artwork. There will also be a children's art activity area where art can be created, shared and taken home.
With a wide variety of original art for sale, there is something for everyone in the show. It is a fantastic opportunity to take home an original work of art and a have a great story to share about the artist.
Live acoustic music will be performed by Bobby G. and his musician friends during show hours. Food trucks will be on site offering a variety of food.
The Wellington Art Society has grown to more than 100 members, artists and art enthusiasts. The society provides a platform for artists of all mediums to share their work, learn more about their craft, and serve the community through their art.
Proceeds from Art Fest on the Green help fund the Wellington Art Society's long-standing scholarship program and other art outreach programs. For more information, contact Leslie Pfeiffer at mysticway1@bellsouth.net or (561) 632-3677, Adrianne Hetherington at tilemaker@aol.com or (561) 301-4498, or visit www.wellingtonartsociety.org.