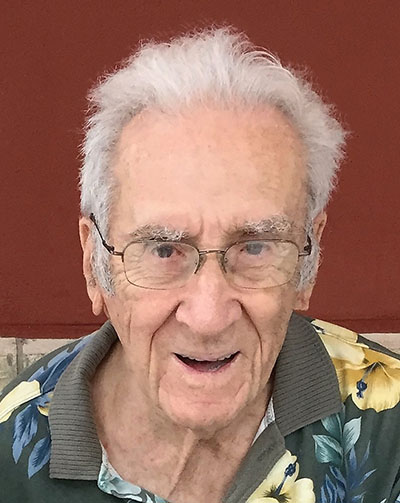 Arthur Wicklman, 95, a longtime resident of Wellington, passed away peacefully at the Hospice by the Sea in Boca Raton on Friday, Dec. 30 at 3 p.m. He was with family at the time of his departure.
Wicklman is survived by three children, Donald, David and Gregory, as well as granddaughter Rachael, grandson Brandt, sister Theresa and daughters-in-law Annette, Jennie and Lisa. Wicklman was preceded in death by Mollie, his wife of 60 years, daughter Diane, and his three brothers Leo, Rene and Louie.
Wicklman was a dedicated and loving husband, father, grandfather and friend. He was beloved by both new and old friends and always left a great impression. He loved hanging with his "buddy" Brandt and racing his powerchair with him on his lap.
He enjoyed spending time with his family and friends, playing cards, traveling around the world and dancing with all the ladies (especially Mollie). However, he loved nothing more than to be in the garage "tinkering" on a project. He could certainly never sit still. He was extremely proud of his history of airplanes and always talked about his days crewing for Formula 1 air racer Boo Ray, building many of his own planes like Jeanie's Teenie, as well as supervising a brilliant team at Scott Air Force Base. He also bragged that all of his kids knew their way around a toolbox. Perhaps more than anything else, his friends will remember his sweet tooth and love for blueberry pie.
A Memorial Mass will be held on Friday, Jan. 27 at 11:30 a.m. at St. Rita Catholic Church (13645 Paddock Drive, Wellington). Burial will take place immediately following at 1:30 p.m. at the South Florida National Cemetery (6501 N. State Road 7, Lake Worth).
The family asks that in lieu of flowers, a donation be made to Hospice of Palm Beach/Trustbridge, 5300 East Ave., West Palm Beach, or the Intrepid Fallen Heroes Fund, P.O. Box 578460, Chicago, IL 60657.