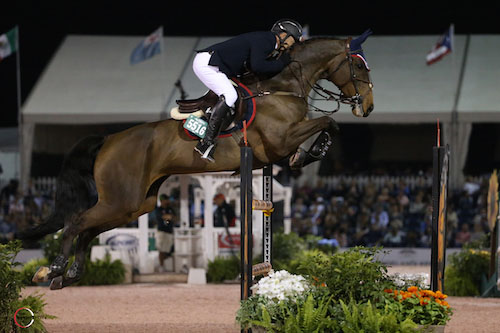 Olympian Enrique Gonzalez of Mexico was the winner in last Saturday night's $86,000 Marshall & Sterling Insurance Grand Prix CSI 2* riding Chacna at the 2017 Winter Equestrian Festival in Wellington.
U.S. Olympians Margie Engle and Laura Kraut rounded out the top three, with Engle aboard Indigo in second, and Kraut riding Nouvelle third.
The event was held during the popular Saturday Night Lights festivities.
Ana Catalina Harris Cruz set the course for 44 horse and rider combinations last Saturday night at the Palm Beach International Equestrian Center. The track yielded eight horses for the jump-off, which featured Olympians and veteran show jumpers, alongside some top up-and-comers.
Andrew Ramsay and the Doodle Group's Cocq a Doodle set things off over the short course, finishing with four faults in 40.55 seconds to eventually place seventh. Mavis Spencer jumped her first Saturday Night Lights grand prix riding Mike Collins' Cornetiero, and dropped two rails in 46.43 seconds to place eighth.
Gonzalez was next to go, completing the first double clear round in 40.36 seconds for the win aboard Chacna. Kara Chad and Torrey Pines Stable's Gin Tonic vd Haagakkers cleared the track in 44.13 seconds to place fourth. Laura Kraut and the Evita Group's Nouvelle followed with the third-place time of 41.35 seconds.
Beezie Madden had the time in 40.12 seconds on Abigail Wexner's Breitling LS, but dropped the front rail of the final oxer to end sixth. Engle went next, racing through the timers in 41.02 seconds riding Griese, Garber, Hidden Creek and Gladewinds' Indigo to land the second-place prize. Last to go, Daniel Coyle knocked one rail with Ariel and Susan Grange's Cita, but clocked the fastest round of the night in 39.49 seconds to secure fifth-place honors.
"The last year has been really good. She learned a lot, and she improved a lot," Gonzalez said of the 10-year-old Hanoverian mare Chacna. "Now I think she is ready to really compete at this level. She has never shown here, and she has never shown in a night class in an open place like this. I really wanted her to go tonight to be ready for the coming weeks."
Gonzalez last competed at WEF in 2011, and this was his first grand prix win at PBIEC.
"We are here for the whole season, so it is definitely a very nice way to start, and hopefully we can keep it up for the rest of the season," he said.
Following the WEF circuit, Chacna may have a trip to the FEI World Cup Finals in her future, as Gonzalez is currently leading the West Coast standings and is qualified to compete in April.
For Engle, Saturday night was a great result with longtime partner Indigo, a 17-year-old Dutch Warmblood gelding.
"He doesn't know he's any older," Engle said. "He acts younger than most of my young horses. He gave it a shot (in the jump-off), and I went as fast as I could at the beginning. I may have gone a little wide to the last fence, but he is always ready to go. He is very enthusiastic, and he always wants to go forward. He is still young at heart."
Indigo jumped the first two weeks at WEF and will now have a few weeks off. "He doesn't owe me anything," Engle said. "He probably won't show a lot the rest of the season. It gets bigger and bigger as it goes on, and now that he's older, I pick my spots with him."
Kraut was going for the win last Saturday night, but was happy with her finish aboard Nouvelle to start the circuit. This was the first week jumping since the beginning of November for the 13-year-old Dutch Warmblood mare.
"I knew Enrique was fast. I went as fast as I could. I just messed up that last turn; I started to turn too early," Kraut said. "She made a heroic effort over that jump to not knock it down, because I did everything in my power to knock it down. I think I probably lost it there."
Madden received the award for Leading Lady Rider for week two, presented by Martha Jolicoeur of Douglas Elliman Real Estate in memory of Dale Lawler.
Also competing in the International Arena last Saturday, the Hollow Creek Farm Under 25 Grand Prix Series got underway with its first of 10 events offering a total of $215,000 in prize money for the WEF circuit.
The $10,000 Hollow Creek Farm Under 25 Welcome was held as a one round speed class, with 62 entries and 22 clear rounds. The win went to Lillie Keenan riding Chansonette Farm LLC's Be Gentle through the timers in 60.84 seconds. Richard Neal and Ida Gold placed second in 62.00 seconds, and Emanuel Andrade finished third with a time of 62.15 seconds aboard Cortina 186.
In the morning, Emily Moffitt and Poden Farms' Don Vito won the $15,000 Engel & Völkers SJHOF High Amateur-Owner Jumper Classic. Anna Beth Athey and Samoa topped the $10,000 Sleepy P Ranch SJHOF High Junior Jumper Classic for week two.
The 12-week WEF circuit runs through April 2, featuring competition for hunters, jumpers and equitation, with more than $9 million in prize money up for grabs. For more information, visit www.pbiec.com.
ABOVE: Enrique Gonzalez rides Chacna to victory at WEF. Photo by Sportfot