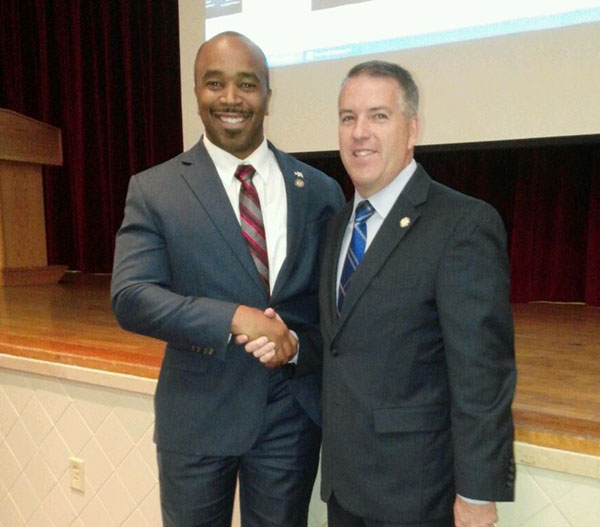 State Sen. Bobby Powell (D-District 30) and State Rep. Matt Willhite (D-District 86) led a town hall meeting at the Royal Palm Beach Cultural Center on Tuesday attended by about 50 residents, elected officials and staff.
Powell is a former state representative who was elected to the newly drawn District 30 in November. Willhite, a former Wellington councilman, replaced former State Rep. Mark Pafford, who was term-limited.
"What we want to do tonight is talk about what we do in the legislative session," Powell said. "I'm brand new to the Senate, and I'm learning a lot about the Senate. It's a little bit different from the House. There's 40 members of the Senate, as opposed to 120 members of the House."
The numerous committees Powell sits on include the Appropriations Subcommittee on Transportation, Tourism & Economic Development, where he is the vice chair.
"That committee controls about $14 billion," he said. "There are six different agencies under that. I am a Democrat, and we have a Republican legislature, so to be vice chair… is pretty significant going into my first year in the Senate."
He also chairs the Joint Select Committee on Collective Bargaining, which alternates chairs each year from the Senate to the House. He is on the Agriculture, Appropriations, Health Policy and Judiciary committees, the Appropriations Subcommittee on Health & Human Services and the Joint Legislative Budget Commission.
Powell said the Health Policy Committee has already started addressing the medical marijuana referendum that passed in November and went into effect on Tuesday.
"The Appropriations Subcommittee on Health & Human Services is the biggest part of our budget," he said. "It's about 42 percent of our entire budget."
Willhite sits on the Government Accountability Committee, and the Children, Families & Seniors, PreK-12 Quality and Transportation & Infrastructure subcommittees.
"Typically, House members sit on four to six committees at the most, so I'm happy to sit on these four committees," he said. "These four committees are important to me. A lot of things that we are going to hear are things that I either talked about [in the campaign] or I have a serious interest in. Children, Families & Seniors: I have children, and I have a great many seniors in my district. Government Accountability: That is an answer for itself. PreK-12: I have two young sons who are in elementary school right now."
Willhite noted that he recently read an article about how many parents are returning their children from private and charter schools to public schools out of frustration over the education they are receiving.
"This is a big, controversial topic that's going on in this committee and a big topic in Tallahassee about funding for private schools and charter schools," he said. "Many of you know the issues we've had here on this."
Sitting on the Transportation & Infrastructure Subcommittee, Willhite said he will draw from what he has learned from serving on the Palm Beach Metropolitan Planning Organization as Wellington's representative.
"There are a lot of issues here," he said. "I'll give you one topic, and that is the State Road 7 extension. Whether you like it or dislike it, those are the things that we talk about when we talk about long-term planning and funding for issues that happen in our communities."
That committee also will address infrastructure improvements necessary for the widespread development about to happen in the western communities, particularly in the areas west of The Acreage.
Powell said the biggest and most important bill the legislature is responsible for is the budget.
"If we don't pass the budget, we end up going back to Tallahassee in special session," he said.
Gun legislation will also be an important topic in the upcoming session.
"This year, coming up very quickly, we'll be discussing gun legislation," Powell said, explaining that the Judiciary Committee will meet next week to discuss proposed open carry and campus carry legislation.
Also coming up will be an examination of sober homes and medical marijuana regulation.
"As I said earlier, health and human services is the biggest part of our budget," Powell said, explaining that $34.3 billion of the state budget goes into those services, with the biggest portion to Medicaid. "That budget is being drawn up, and as you know, the State of Florida… did not accept the extra dollars for Medicaid expansion. That's part of the problem right there."
Education, the next biggest part of the budget, is about 27 percent at $21.9 billion; transportation, tourism and economic development is about 16 percent of the budget at $12.85 billion. General government is next at 7 percent or $5.6 billion; criminal and civil justice is 6 percent at $5 billion; and education capital outlay is 2 percent, at just over $2 billion.
"The smallest portion of our budget [$330 million] is administrative funds for the legislature for government offices and things like that," Powell said.
He added that a funding shortfall is predicted as soon as the upcoming session.
Willhite said the thing about the budget is that it seems like a lot of money, but there never seems to be enough.
"We say that our taxes are so high, but it seems like in some areas there is always need and room for improvement and benefits to these topics," he said. "It's great to see that the administrative part is so small. The money should be for what people need and what their interests are, not about what we're there to do, not to benefit us. We're there to take care of people, and those things are so important."
For the first time in the House, but not the Senate, a requirement has been imposed that any allocations bills have to be filed separately.
"It's called an appropriations bill, so this little piece of the pie that we want to bring back to you has to have a separate bill filed," Willhite explained. "It's going to be a little difficult with what happens between the House and the Senate. Those are some of the things that we're going to have difficulty with this year filing and following through on."
Issues such as last year's Zika virus scare have caused a drop in tourism and a shortfall in the budget.
"These are things that we're going to have to balance this year and the following year in how they affect the budget dollars," Willhite said.
ABOVE: State Sen. Bobby Powell and State Rep. Matt Willhite.