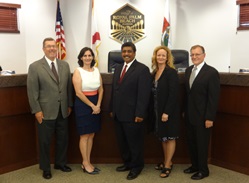 The Royal Palm Beach Village Council approved the preliminary reading of an ordinance last week that would create regulations to allow breweries, brewpubs, microbreweries and taprooms/tasting rooms as special exception uses in general commercial and limited industrial districts.
At the Jan. 19 meeting, Village Attorney Jennifer Ashton said that the council had asked for regulations adding the uses in shopping centers in need of rehabilitation or revitalization.
"This was created in an innovative way to do that, so the council directed staff and myself to draft an ordinance for review proposing some regulations for microbreweries," Ashton said.
Her research on microbreweries revealed that there are several different iterations, including brewpubs and distilleries.
"I found some sample ordinances that I have utilized in crafting this, so these are tested regulations already," she said. "I looked at the City of Tampa, the City of St. Petersburg and the City of Orlando, which have developed downtown areas that are very successful, so the majority of these regulations come from those cities."
Ashton explained that the council had several goals in moving forward with brewery uses. Microbreweries would encourage innovative new businesses and help revitalize struggling shopping centers. Further, there is a need to create criteria to encourage and facilitate these businesses in a way so as not to make them too restrictive, but at the same time consider that they have manufacturing and distribution components.
Under the definitions, a brewery or brewpub is more like a restaurant in commercial districts, where they have a food menu, and 50 percent of the beer must be sold for consumption onsite. A microbrewery would be limited to 20,000 square feet in the industrial district, or less than 5,000 square feet in the commercial district.
Brewpubs and microbreweries must have a public access component. There needs to be either a taproom, educational facility, visiting center or retail center that attracts the public. "That is really what differentiates a brewpub and microbrewery from a standard brewery," Ashton said.
At brewpubs and microbreweries in the commercial general and industrial limited areas, the common areas must make up at least 25 percent of the facility.
"Only 75 percent of the facility can be used for the manufacturing and distribution," she said. "It sets limits on the maximum barrel production of brewpubs and microbreweries each year. The maximum production is 15,000 barrels per year. That is a pretty standard regulation across the board."
She noted that the people who brought the concept to the village told her that 15,000 barrels is a large amount of beer, and explained that the amount of production is regulated by state standards and that all manufacturing components must be enclosed within the site.
"There is a manufacturing component to this," she said. "There could be impacts to residential areas such as vibrations, noise, smell, etc. It's something we want to take into account."
Outdoor seating for brewpubs is permitted as long as it does not directly abut a residential area.
"The goal is to keep the use interior as much as possible so it won't impact residential areas," Ashton said, adding that drive-throughs are also prohibited, and that parking requirements will be similar to restaurant requirements. "If you do not have that public component, you will be treated more like an office warehouse for parking regulations."
The establishments must also maintain necessary licenses with the state and county.
Councilman David Swift asked what authority the council would have if a brewery had entertainment.
Ashton replied that those regulations are already in place for bars and lounges, where they must come to the council to request a special exception. Recorded music must remain inside and cannot be projected onto a patio area.
"We're trying to be respectful of surrounding uses," she said.
Mayor Fred Pinto said the amendments are an opportunity for the village to help the community provide a service that is not available now.
"We have a structured ordinance that will govern the process around it going forward," Pinto said.
Vice Mayor Jeff Hmara said that council members had discussed ways to rejuvenate aging shopping centers during strategic planning sessions, as well as innovative ways to encourage new businesses.
"One of the things we're doing here is we're putting notice out there to say this is some of that innovative, revitalizing kind of business that we in Royal Palm Beach will welcome here," Hmara said. "That is a chance to say it without a business coming to us. If we come up with other ideas, regardless of where we get them from, by revitalizing and fitting into that notion to do something new with our old commercial areas, we want to take proactive action."
He recalled a conversation with Councilwoman Jan Rodusky about creating opportunities for "maker space" that would encourage local artisans, crafters and artists to open up local shops.
"Once she told me what that was, it kind of made sense to me, and I can see there's a lot of issues in that area, and that may be an area we want to consider as a proactive kind of ordinance to kind of pull some of those creative kinds of businesses into our community," he said.
Hmara made a motion to approve the ordinance, which carried 5-0.
ABOVE: The Royal Palm Beach Village Council.