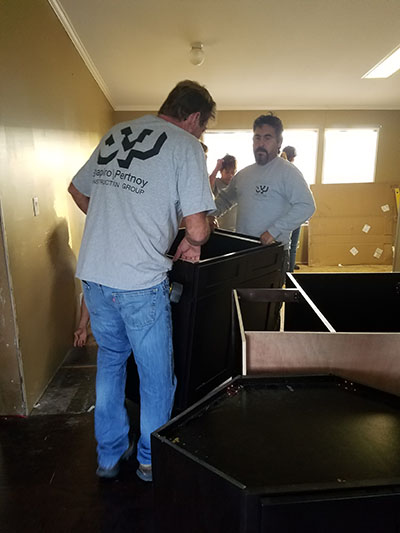 The Shapiro Pertnoy Companies held its eighth annual Martin Luther King Jr. Day of Service event on Monday, Jan. 16. This year's project was centered on helping a family in Boynton Beach.
The husband and wife, owners of the home, have 17 years of United States military service experience between them. Unfortunate circumstances, such as having a kitchen cabinetry company treat them dishonestly and leave their kitchen in disarray, have made things difficult for the family. Their kitchen was without a sink, so the family washed dishes in the bathtub. The family's trailer home didn't have flooring in the kitchen, since the flooring was meant to be installed when the cabinets were finished — two years ago.
The family's luck changed this year when the Wounded Veterans Relief Fund contacted Shapiro Pertnoy. The husband is a disabled U.S. Army veteran with 14 years of active service. He is currently in the U.S. Army Reserves awaiting a medical discharge and is unable to work due to chronic pain. The wife is a three-year active duty U.S. Army veteran with two years in the reserves. She also has a disability rating, but is currently studying to become a nurse. The family has six children, ages four to 26, two of which are on the Autism spectrum.
Last week, as part of the Martin Luther King Jr. Day of Service, more than 30 volunteer subcontractors joined Shapiro Pertnoy to install the cabinetry in the kitchen; re-floor the kitchen, laundry room and master bath; install new doors in the doorways; enhance landscaping and build a vegetable garden; clean the home; work on electrical and plumbing issues; and paint the home. All time and materials were donated. The family will not pay for these services. The family appreciated the support and assistance from the volunteers.
The Shapiro Pertnoy Companies are a Palm Beach County-based general contractor and real estate developer in business for almost 40 years. Operated by cousins Ron Pertnoy and Steven Shapiro, with their sons, Josh Pertnoy and Kevin Shapiro, and an experienced staff of associates, the Shapiro Pertnoy Companies provide a name synonymous with construction of Wellington and Palm Beach luxury homes and exemplary commercial development.
To learn more about the Shapiro Pertnoy Companies Day of Service, visit www.shapiropertnoy.com/philanthropy.