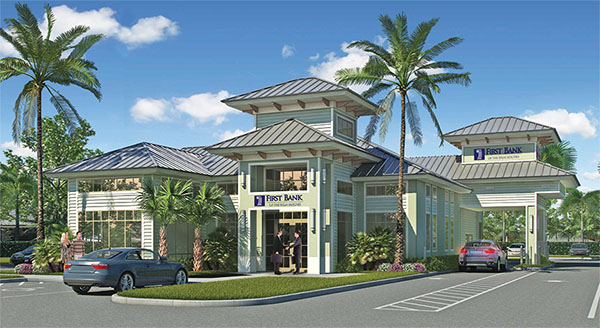 The Village of Wellington's Architectural Review Board met Wednesday, Jan. 18 to discuss the exterior elevations and signage of the First Bank of the Palm Beaches branch in the Wellington Plaza.
"At the Dec. 21 meeting, it was decided to postpone the vote to get revised elevations and renderings," Wellington planner Kelly Ferraiolo explained.
Architect Robert Kuoppala presented the changes to the plans for the bank, including shortening the north/south dimensions for the drive through, revising columns, lowering beams, lowering vertical walls and dropping the tower roof ridge.
A 13-and-a-half-foot clearance is required for protection to enable a fire truck to clear the drive-through lane, Kuoppala said.
Board Member Ron Shamash made a motion to approve the design plan with the changes, which was seconded by Vice Chair Tom Wenham. The motion passed unanimously.
The second item agenda was the exterior elevations and signage for Commerce Park East Lot 24 on Fairlane Farms Road.
Wellington planner Ryan Harding explained that the proposed building is located at the intersection of Pierson and Fairlane Farms roads, in the Commerce Park East Industrial Park.
"The applicant is proposing to build a one-story, 10,328-square-foot office and warehouse building with outdoor storage space on a currently vacant lot," Harding said.
The project was approved at the Dec. 14 Development Review Committee meeting, he said.
"Staff is of the opinion that the proposed building and accessories structures as shown in staff report Exhibits A and C will be appropriate to the character to the industrial park and its existing structures," Harding said.
Staff, he said, recommends approval of the requests, with the conditions noted in the staff report.
Wenham asked what will be in the outdoor storage areas.
Kuoppala said that they don't know what will be in the storage areas, but that it was asked for by the owners.
Wenham made a motion to approve the requests, which was seconded by Board Member William Klein and passed unanimously.
ABOVE: An artist's rendering of the First Bank of the Palm Beaches design.