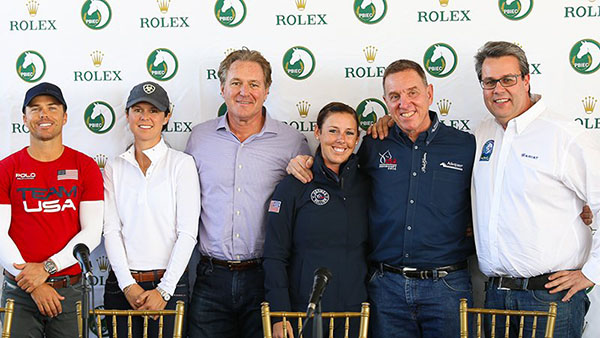 The 2017 Winter Equestrian Festival and Adequan Global Dressage Festival kicked off this week in Wellington.
The 12-week WEF will host thousands of the world's best horses and riders competing in the hunter, jumper and equitation disciplines from now through April 2. The AGDF features the stars of dressage now through March 25.
Equestrian Sport Productions, the company that produces both festivals, hosted an opening press conference on Tuesday, Jan. 10 at the Palm Beach International Equestrian Center.
The conference panel included Equestrian Sport Productions CEO Mark Bellissimo, AGDF Director of Sport Thomas Baur, U.S. Olympic Show Jumping Team silver medalist Kent Farrington, U.S. Olympic Dressage Team bronze medalist Kasey Perry-Glass, three-time USHJA International Hunter Derby Finals winner Liza Boyd and Allyn Mann of sponsor Adequan.
Bellissimo noted the major improvements in infrastructure that have been made at the show grounds thanks to participant recommendations.
"At the end of last circuit, we had a meeting of riders, trainers and owners to discuss opportunities to improve the Winter Equestrian Festival," Bellissimo said. "One of the biggest areas of interest was the footing. We did renovation of the rings, with full removal of footing in the International Ring and its schooling area, plus an overhaul of the footing in all of the rings. We also increased the drainage footprint around the arenas. We had an unusually large amount of rain last year, so we wanted to make sure that we kept ahead of that. There were major barn area enhancements, from drainage to aesthetics."
He added that there was also a major investment in bridle paths.
"We elevated the paths and put in material that allows them to drain better and operate in a more efficient way," Bellissimo said. "We reduced two stabling tents to decrease congestion and relocated those areas so that we could add another ring that's being called the South Ring. We also created a bridle path that goes along the canal past Mallet Hill and leads to a 12-acre grass polo field that anyone can hack on."
The 2017 season kicks into high gear this Saturday night, Jan. 14, with the $75,000 Wellington Regional Medical Center Battle of the Sexes, the season's first Saturday Night Lights event. The male-versus-female class always provides a high-level of entertainment and fun.
The Great Charity Challenge, presented by Fidelity Investments, is another great community event that will reach a mark of more than $10 million donated to more than 200 Palm Beach County charities when it returns for its eighth year on Saturday, Feb. 4.
This year's WEF will host four weeks of CSI 5* competition, with a new CSI 2* division running concurrently during each week, which will allow riders of different levels to take part in international competition. The highlight $500,000 Rolex Grand Prix CSI 5* will be on Saturday, March 25, during Week 11 this year due to the upcoming FEI World Cup Finals at the start of April.
The FEI World Cup Finals are an important goal for international show jumper Kent Farrington and played a big part in Farrington's plans for this year's WEF circuit. He will use the WEF circuit to prepare top mounts Creedance and Gazelle for the championship event. Farrington plans to ride his Olympic mount Voyeur in the 5* competitions at WEF, and will work with new young talents throughout the WEF season.
"What's really great about Wellington is that there is an opportunity to do a little bit of everything," Farrington said. "I have a mixed group of horses here from very young horses from age five that are just learning to go to a show, to my most experienced grand prix horses that are 15 years old and competing at that high level. For me, this is a combination of spring training for my younger ones, and it is still an opportunity to compete against some of the world's best for five-star level, big money competition. I think that is why WEF is unique. That is why we make it our home, and that is why you see a big part of the world spending the winter here."
Along with top show jumping competition, WEF features divisions for every level of the hunter horse discipline, including Week Six's $100,000 USHJA/WCHR Peter Wetherill Palm Beach Hunter Spectacular and Week 12's $50,000 USHJA International Hunter Derby. This year's circuit also includes the addition of two new $10,000 USHJA National Hunter Derby competitions.
Three-time USHJA International Hunter Derby Finals winner Liza Boyd looks forward to a great 2017 season.
"There are so many opportunities here for the hunters. The hunter format is growing; the pipeline for hunters is growing," she said. "The addition of the young hunter classes for the five, six and seven year olds is really appreciated. It is a great opportunity for owners and really good for the industry… The addition of the South Ring is wonderful. There are just so many opportunities, starting from the cross rails, which my daughter will be competing in this year."
The Adequan Global Dressage Festival kicked off the 2017 season on Tuesday, and AGDF Director of Sport Thomas Baur discussed exciting new additions to its circuit this year.
"We are introducing a lot of new and exciting things at the Adequan Global Dressage Festival this year," Baur said. "For the first time in a World Cup Qualifier in North America, we will use the new FEI Freestyle system, where the riders have to bring in their floor plan beforehand, and the freestyle is judged according to the floor plan. The system has been used in the Western European League for qualifiers and worked out really well. The judges and riders appreciated that very much, and it will give a more objective view on the subjective freestyle for the judges."
The show is also introducing a new spectator judging app, which has been very popular in Europe.
"It is an interactive tool where the spectators can judge mark-by-mark and then compare their scores to the judges," Baur said. "We have introduced some new divisions for the show this year as well, including a CDI for children, and a CDIO Under 25 Nations' Cup. It is also the first time that those classes have been hosted in the Western Hemisphere."
U.S. Dressage Olympian Kasey Perry-Glass expressed her enthusiasm for the AGDF. Her Olympic mount, Dublet, will be among her rides in Wellington this winter.
"I think it is nice that as an Olympic team, we are coming back to compete on our home soil. I'm really excited about that," she said. "My first priority for Dublet this year is keeping him happy and healthy. Having so many competitions at AGDF makes it possible to do that because we can plan out our show schedule."
Adequan's Allyn Mann has been one of AGDF's biggest supporters from the start and looks forward to another fantastic season.
"We are really blessed to have the opportunity to be involved in such a wonderful sport," Mann said. "Mark [Bellissimo] has done a wonderful job of elevating the level of dressage in this country by coming up with this concept to actually have high-level competition in the span of a short period of time. When people like Kasey or Allison Brock or Laura Graves can compete at such a high level of competition without having to travel across the pond, it can really make a difference. I think we saw the evidence of that this past year at the Olympics."
Mann is proud of Adequan's support for both the AGDF and WEF.
"Our philosophy is really to try to touch as many disciplines as possible and to support the owners that make all of this possible," Mann said. "It is our little way of giving back to the community and helping to put on some really good events for spectators to enjoy."
For more information, and a complete schedule of events, visit www.pbiec.com and www.globaldressagefestival.com.
ABOVE: U.S. Olympic Show Jumping Team silver medalist Kent Farrington, three-time USHJA International Hunter Derby Finals winner Liza Boyd, Equestrian Sport Productions CEO Mark Bellissimo, U.S. Olympic Dressage Team bronze medalist Kasey Perry-Glass, Allyn Mann of sponsor Adequan and AGDF Director of Sport Thomas Baur. Photo by Jennifer Wood Media