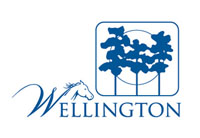 There is plenty to look forward to in Wellington in 2017, from infrastructure improvements to cultural events and more.
"We have a lot of things that we're looking forward to. We're going to benefit from the sales tax [increase] that just passed," Village Manager Paul Schofield said. "That's going to provide for a significant number of improvements — things that will make Wellington a little bit nicer place to live every day."
The 1-cent infrastructure surtax went into effect Jan. 1, after it was approved by voters on Nov. 8.
"As we go into the next year, we want to build on the things we've done over the last several years," Schofield said. "The new Wellington Community Center is completed. Take a look at how we enhanced that area. Now that that space is open, we will see how it is being used and make it just a better all-around experience for our residents."
Drainage improvements to ensure that roads are passable during storms, utility system improvements and providing a broader mix of services to senior citizens are focuses for 2017 in Wellington, Schofield said. "You're going to see us doing the kinds of things you'd normally expect your government to do," he said.
One change that will affect residents is that effective Jan. 3, Wellington's government is no longer on a four-day workweek. New office hours at the Wellington Municipal Complex are Monday through Friday from 8 a.m. to 5 p.m. Wednesdays will have extended hours, from 7 a.m. to 6 p.m. There will also be a stronger emphasis on customer service, Schofield said.
The Wellington Amphitheater is one of the community's bigger draws. Cultural Programs & Facilities Manager Joseph Piconcelli has a jam-packed schedule with concerts, food trucks and movie nights. At the end of January will be the Wellington Art Society's Art Fest on the Green, followed in February by the popular Tribute Music & Food Truck Festival. Come March, Wellington Idol will return with a call for contestants out shortly.
"We have an excellent lineup of concerts and tribute concerts for the next three months, from the Bee Gees to Jimmy Buffett and Van Halen," Piconcelli said. "We have a Linda Rondstadt concert coming. These are new, and they haven't performed at the amphitheater here at all."
Attractions for older citizens and younger residents are a priority, as well as keeping residents in Wellington for cultural, recreation and entertainment activities.
The possibility of building a performing arts center in the community is one focus of Mayor Anne Gerwig. A spring workshop is planned on that topic.
"I'm looking forward to a really interesting direction meeting," Gerwig said.
Wellington is expected to receive $3.4 million from the new 1-cent sales surtax to be used for capital improvements. A performing arts center, Gerwig said, would fall under that category, and is something that many community residents have asked about.
"My idea for it is really for a place that we can go," she said. "Right now, if you want to see a show, you have to go all the way to the Kravis Center or Delray Beach."
The future use of the K-Park parcel on State Road 7 is also a topic that will be discussed again, as well as the recreation needs of the community. "We need to make sure that we are providing enough growth in those areas," Gerwig said.
Though everyone in the community doesn't always agree on the issues, Gerwig is proud to be involved.
"What a privilege it is to serve in this community. I've served now going on seven years. It has always been a privilege," she said. "Even when people don't agree with you, in Wellington, they're respectful. It's a nice place to serve."
She pointed out that the current council members have been working together well.
"I've gotten a lot of great feedback about the council, that we react to each other well, and we collaborate well. I'm not taking credit for that. I'm just saying that I appreciate it because it does feel like a collaboration," Gerwig said. "It feels like a group of people who trust each other enough to work together, and I really, really like that."
The new five-day work week, she said, is going to be an adjustment for staff, which will hopefully have a positive impact on Wellington employees and the community. "We'll see how that goes," Gerwig said.
Wellington is a great place to live. The desire for a healthy lifestyle runs through the community, she said. That is evident in the Wellington Kids Triathlon, which returns in April after a one-year hiatus due to the construction of the Wellington Community Center.
"It's adorable," she said. "That's a unique thing that this community does that I think is important because it gets kids involved in healthy lifestyle choices."
Gerwig is excited to have new Utilities Director Shannon LaRocque on staff.
"She has extensive knowledge in the way governments are run from a very high level," Gerwig said. "I think she's a huge benefit to the community in many ways."
Tom Lundeen, Wellington's new village engineer, is also a crucial new addition, she added.
Gerwig is looking forward to taking part in the American Cancer Society's Relay for Life.
"Hopefully all of the communities will want to participate," she said. "I'm looking forward to that as a community-wide effort and a team-building effort for the village alongside the other communities, Loxahatchee Groves, The Acreage and Royal Palm Beach."
Overall, there's plenty to look forward to in the coming year. For more information, visit www.wellingtonfl.gov.