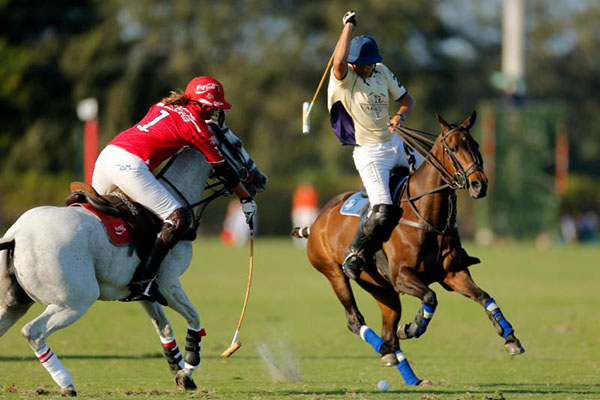 Coca-Cola snatched a stunning 16-11 victory over Valiente II in last Sunday's featured match at the International Polo Club Palm Beach, concluding the quarterfinals in the 2017 Ylvisaker Cup.
Earlier in the day, Postage Stamp Farm squeezed by Villa del Lago Modere 10-9, and Orchard Hill bested Horseware 15-10.
It was a stellar day for the team in red, which brought home a slew of awards along with a spot in the semifinals. Coca-Cola's Gillian Johnston, who repeatedly ran the ball into the goal, was named MVP, and Fanta, played by Coca-Cola's Julian de Lusarreta and owned by Johnston's G-String Polo Ponies, was named Best Playing Pony.
Coca-Cola got off to an early 2-0 lead on goals from de Lusarreta and Wesley Finlayson, who played in place of Del Walton. Valiente II answered with a goal from Robert Jornayvaz, back in the line-up after missing the previous two games. That was a boon to Valiente II, which always plays in better sync with Jornayvaz at the helm.
After close back-and-forth play through two chukkers, the game took a twist in the third. Valiente II seemed to stun Coca-Cola, scoring five goals on five shot attempts from the field. Diego Cavanagh and Matias Torres Zavaleta each scored twice, and Joaquin Panelo added another goal. That allowed Valiente II to control play the last half of the third chukker and take an 8-5 lead into halftime.
Coca-Cola promptly recovered from a tough third chukker and bounced back in the fourth. Powerhouse Julio Arellano scored two goals from the penalty line, and Johnston made one of her three goals on the day. However, fouls from Coca-Cola allowed Cavanagh to convert two penalty shots and help Valiente II maintain the lead. As the second half unfolded, Coca-Cola kept winning throw-ins for possession (at one point winning 8 of 11), and the team began to dominate in the second half.
Arellano converted three more penalty shots the rest of the game, going a perfect 5-for-5 on the day. Valiente II was unable to register shots at goal as Coca-Cola controlled play. A balanced attack saw all Coca-Cola players score at least three goals, Arellano leading the way with seven. The victors slammed in an amazing 11 goals in the second half to run away with the game and finish with a 16-11 victory.
The Ylvisaker Cup Final will be featured this weekend at IPC featuring the winners of Wednesday's semifinal matches: Coca-Cola vs. Orchard Hill and Tonkawa vs. Postage Stamp Farm.
All games in the Ylvisaker Cup will be live streamed on the USPA Polo Network at www.uspolo.org.
The 2017 polo season runs through April 23 with a wide array of social options available each Sunday afternoon. For more info., visit www.internationalpoloclub.com.
ABOVE: Coca-Cola's Gillian Johnston battles Joaquin Panelo of Valiente II for control of the ball. Photo by David Lominska