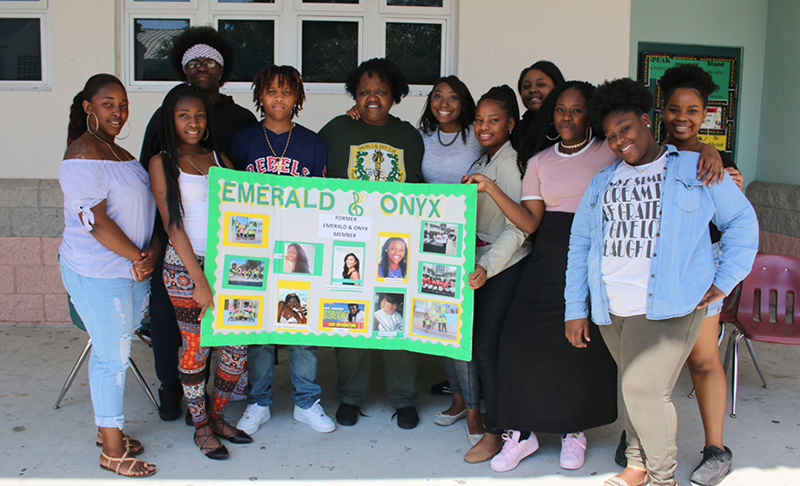 Black History Month was celebrated at Royal Palm Beach High School with activities, assemblies, fairs and special programs throughout the month of February.
On Thursday, Feb. 16, the school hosted a special assembly featuring African dance by the Emerald & Onyx Club, guest speakers, music and awards. A special guest, Donna Allen, a competitor on The Voice, came to speak with the students as they learned about the legacy, pride, heritage and contributions of African-Americans.
The following day, Friday, Feb. 17, during lunch, the school staged a Black History Month Student Activities Fair in the courtyard.
RPBHS teacher Dasie Greenland chaired the committee that put together the fair. Additional committee members include Neal Hagans, Winsome Haye, Monique Paramore, Novice Johnson, Dionne Lewis, O'Mekia Palmer and Zoraida Fonseca.
"Today, each club is setting up, introducing their club and their organization to the student body and also giving them their criteria for joining in the club and giving them the overall expectations of the club," Greenland said.
Each club, she explained, was offering some sort of Black History Month game or activity. "What they're doing is promoting their clubs through black history and doing an activity," Greenland said.
There were special cheers with stomping and stepping, and clubs were offering trivia, games and selfie stations.
Greenland has been working on the fair since she first came to the school.
"I thought that the children need to learn our culture and also learn [about] some of the people who were instrumental during that time," she said. "Think of the people right now who are growing up and identify with these people, know who these people are in the community and be familiar with some of the achievements of African-Americans."
The school has been supportive of the event and activities surrounding Black History Month, she added.
The fair gives students the opportunity to not only learn about clubs at the school but to share what they know about black history with one another, Greenland explained.
The Emerald & Onyx Club works with the teacher committee to put together the special events. The club focuses on encouraging and assisting minorities as they further their education. All students — regardless of age, sex, race or religion — are welcome to join.
As the month has progressed, Greenland has been thrilled with the results of the programs.
"I was so excited yesterday when I saw all of those kids, especially when Donna [Allen] got up and told the kids to stand up and turn their phones off and participate," Greenland said. "They were more than excited, and I was too, just to see the kids actively engaging… Even today, out there, they're excited about this. You have kids participating at every booth."
Studying black history is important for the students, she stressed.
"Segregation still exists, and they're familiar with the words and the terminology," Greenland said. "It has not gone completely away, but the bottom line is, as the children grow, and they learn the information, they don't think about that. The reason they don't think about it is they're so busy building friendships and building relationships. All of that is not a part of their lives at Royal Palm Beach High School."
Media specialist Sarah Garcia was helping at the Students Against Destructive Decisions (SADD) booth, which featured a set of bowling pins and a ball.
"They have the typical things that African-Americans face in terms of what they have to deal with on a daily basis: being discriminated against in job opportunities, in relationships, in promotional things, and we put them on bowling pins so that students can then knock all of those detriments down," Garcia said. "It's celebrating black history in that we're making strides in the right direction."
Janet Stanton teaches drawing and painting. To commemorate Black History Month, she set up the ability for students to take selfies with two artists, both male and female, using art as the background. "We have a two-sided one — we have a male and a female black artist," Stanton said.
The National Art Honor Society sponsored the display featuring artists Kehinde Wiley and Mickalene Thomas.
For the future, Greenland noted that parents and community members are welcome to attend the assembly program and several of the other activities the school conducts for Black History Month.