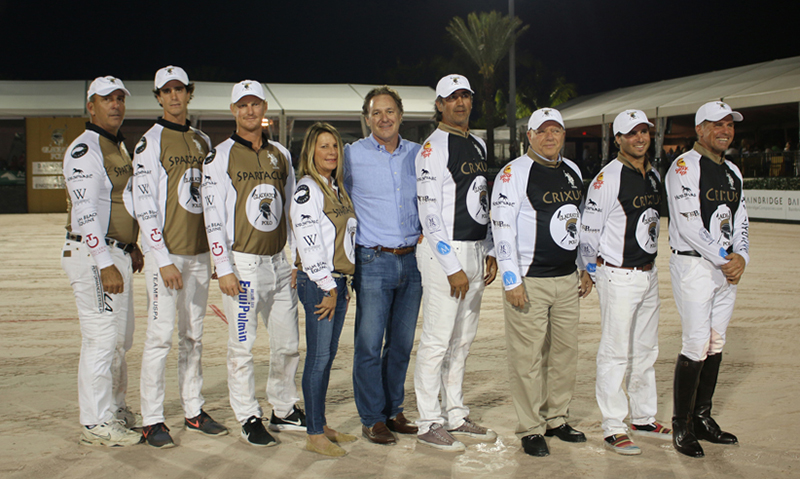 The exciting sport of arena polo has arrived in Wellington. The debut competition of the Gladiator Polo Arena League took place Thursday, Jan. 26 at the Palm Beach International Equestrian Center's Equestrian Village site.
A large crowd was on hand to watch the Spartacus team of Tommy Biddle, Felipe Viana and Jason Crowder defeat the Crixus team of Mike Azzaro, Matias Magrini and Santi Torres.
Arena polo is a fast-paced version of polo played outdoors in an enclosed all-weather arena. Unlike outdoor polo, which is played on a 10-acre field, arena polo is played on 300-foot-by-150-foot field, enclosed by walls. The ball is similar to a mini soccer ball and is larger than the hard plastic ball used outdoors.
Arena polo is typically far more financially accessible than outdoor polo and is a great entry point for new and young players. Unlike grass polo, arena polo teams feature three players, rather than four.
The inaugural Gladiator Polo Arena League has four teams, all named after the top Roman gladiators: Spartacus, Crixus, Priscus and Spiculus.
The Spartacus team was sponsored by Carol Sollak and Engel & Völkers with contributing sponsors Goose Island Beer, W Development Group, Palm Beach Equine Clinic and Cavalleria Toscana.
The Crixus team was sponsored by Richard Schechter and the Bainbridge Companies with contributing sponsors Shock Top Beer, Marshall & Sterling Insurance Equisport Division, Pegasus Builders and the Maya Group at Illustrated Properties.
The league will continue Thursday, Feb. 16 at 6 p.m. with a match between Priscus and Spiculus. Games will then continue on Thursday evenings, leading up to a final in April.
"We wanted to create a concept that will re-energize polo in this country and ultimately bring new participants, spectators and sponsors into the sport," explained Mark Bellissimo, CEO of the International Polo Club Palm Beach and managing partner of Wellington Equestrian Partners.
The opening night of Gladiator Polo also introduced two of the world's most advanced riding simulators. One simulator teaches general riding skills, while the other teaches polo riding and "stick and ball" training. Each simulator will be based at the Equestrian Village site for the season.
"This is incredibly exciting news for our sport," said Bob Puetz, executive director of the United States Polo Association and a former high-goal arena polo player. "High-goal arena polo is faster-paced than its outdoor counterpart due to the smaller size of the playing field and the added element that the side boards bring to the games."
The opening night of Gladiator Polo included live music by Wonderama, the polo and riding simulators, gladiator games and more.
Learn more about the new league at www.gladiatorpolo.com.