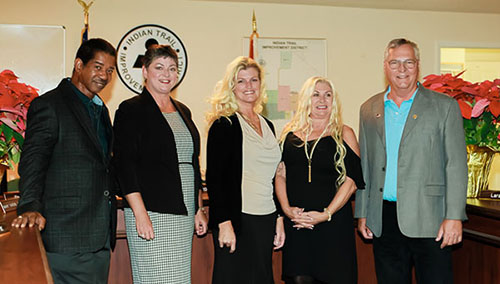 The Indian Trail Improvement District Board of Supervisors will discuss the renewal of District Manager Jim Shallman's contract or whether to send out a request for proposals (RFP) for a new manager at its meeting on Wednesday, March 15.
At the board's meeting on Feb. 15, human relations attorney Lara Donlon said she was looking for direction regarding Shallman's contract, which expires on April 23.
"While that may seem far away, it is around the corner, so I'm looking to find out whether the board wants to enter into a new contract with Mr. Shallman, which is certainly one option," Donlon said. "It does not have a renewal provision, so that is why I say 'new contract.' It does not extend or anything like that, so we need to take some action prior to April 23."
If the board wants to go in another direction, Donlon said she would need to know that, as well as whether to do a search or hire someone in-house.
ITID President Jennifer Hager said she prefers to keep Shallman as manager.
Supervisor Betty Argue said she does not want to renew Shallman's contract without an evaluation and would prefer an RFP.
"Mr. Shallman did not have his evaluation last year, but I would like to actually put it out for a proposal and have Mr. Shallman compete with others," Argue said. "I think part of considering Mr. Shallman's new contract, and the competition would be part of his evaluation."
Supervisor Carol Jacobs, who was attending the meeting by telephone, said she was starting her 11th year on the board, and during that time, ITID has gone through five different managers, including Shallman.
"We've had personnel/board member problems with each one," Jacobs said. "You're not going to find the perfect manager, no matter how hard you look. Jim came into a time that we've had massive amounts of things going on. From Minto to GL Homes, I can go down the list. People have got to realize that Jim's got to do his job, and he has been pretty nice by letting everybody come in on him and taking up his time."
Jacobs said she was worried at first that Shallman, who was moved up from finance director to manager in 2013, would be able to do the job. He was hired in October 2013, at first with a six-month tryout.
"He did a great job, and I think it was a slap in the face that he came in at a time that everybody was quitting," Jacobs said. "I think, if anything, we give him at least a year renewal and evaluate him again next year."
"I'm with you on that, Carol," Hager said.
Supervisor Gary Dunkley said he would prefer to send out a request for proposals so Shallman could match his worth against others.
"I think the district needs the best it can get," Dunkley said. "Especially in this time of turmoil, we need someone who is professional and who can handle the position, so I would like to put it out for an RFP."
Supervisor Ralph Bair said he does not favor an RFP, and would prefer a one-year extension.
"I'm not sure if I want to go out [for an RFP] right now with so many things going on," Bair said. "I might prefer to wait for a year… Even if it's six months' extension, that would be fine with me."
Hager said she would prefer to keep Shallman, considering the number of issues before the board.
"To me it's kind of risky right now," she said, explaining that she doesn't want to hire "someone who doesn't know what the district is dealing with."
Jacobs said she stood behind Shallman because he is easy to communicate with. "You might not always get along with your manager, but Jim has always been easygoing," she said. "He always answers my calls. I think that right now, we have too much going on to go out for another manager."
Hager said she had other comments that would be more appropriate to make during an evaluation.
Donlon said from what she was hearing, the board would prefer to do an evaluation.
"That's going to be very important to Jim as well. The contract provides for that, so we are going to endeavor to do that on or before the March meeting," she said. "My intent would be, unless you tell me differently, I will be sending out evaluation forms again this year, so you'll have an opportunity to think through what your thoughts are regarding Jim's performance, and have an opportunity to meet with Jim prior to the March meeting so you'll be able to have that one-on-one discussion."
Meanwhile, from what she was hearing from three board members, Donlon said she would draft another agreement for a one-year extension.
Argue disagreed, saying that if they put it out for competition, they would be in a situation to look at other qualified people, and decide whether they want to keep Shallman.
"If we want to keep Jim, we would be negotiating a new contract, so I think since we are negotiating a new contract, then we should be looking at all of our options," she said. "This is not a tenured position. It is not a lifetime appointment, and I think it is important that there be some things discussed before we make any commitments from this board."
Bair said that the board still has to meet the commitments of Shallman's contract expiring on April 23, and Donlon said one of the reasons she was looking for direction was the timeline. "In order to go out [for an RFP], we would need to move that along," she said, explaining that she would need at least a 30-day period for the RFP responses to come in.
Bair proposed to put the issue up for discussion next month at the March 15 meeting, including Shallman's evaluation, and Hager and Jacobs agreed.
Donlon said she would send out the evaluation forms to supervisors.
ABOVE: The Indian Trail Improvement District Board of Supervisors.