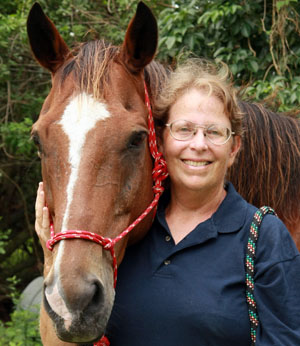 TALES FROM THE TRAILS
The Winter Equestrian Festival's 2017 Lunch & Learn Series got underway Jan. 12. This thoroughly enjoyable weekly get-together takes place each Thursday during WEF from 11:30 a.m. to 1 p.m.
Event Coordinator Laura Bostwick is enthusiastic about this year's series. "It's going well," she said. "This is a wonderful venue where people from all aspects of the equestrian world can come together, enjoy a delicious lunch, and learn something new. We're especially excited about a new offering this year."
That was an extra Lunch & Learn held Wednesday, Feb. 1 geared toward young riders. "Mental Skills: Tools for Success in the Ring and Classroom" was presented by the Foxcroft School and focused on how to balance school and the horse show lifestyle.
The sessions take place in the Wellington Club at the Palm Beach International Equestrian Center. Admission is free for riders, trainers and owners.
Jennifer Matts of New Jersey attended the first session. Her daughter, Hannah, shows at WEF. "I saw the Lunch & Learn advertised, so I came," she said. "It's a great opportunity to learn some pretty exciting things on a variety of topics. I plan to come to a few more. It's well-organized. This is the perfect place to relax and enjoy yourself before the crazy weekends."
Jodie Tipple of Wellington came with her daughters, Riley and Meghan. Jodie owns a boarding stable and has clients showing at WEF. "I've been coming to the Lunch & Learn since it started," she said. "We love it. It's very informative. I've learned a lot and also purchased some of the products presented here. I'm very happy with them. Everyone should definitely come."
Dr. Michele Hollis, a people doctor, was there as well. She comes to WEF from her home in Virginia and makes barn calls. (Her daughter also shows.) "I find the Lunch & Learn talks very helpful," she said. "This first one in particular is of interest to me, as it deals with emergency medicine. Wellington Regional Medical Center does a fantastic job. I've referred patients to them. The Lunch & Learn series is beneficial to the community, a great place to mingle and make contacts. I absolutely recommend it."
The team of doctors and surgeons from Wellington Regional presented an informative overview of the services they offered, many stressing ways they help equestrians in particular with riding-related injuries resulting from falls, getting kicked or other typical problems.
One doctor asked for a show of hands as to how many people knew who to call if their horse became ill, and most hands went up. Then he asked how many knew who to call in case of a human medical emergency; not so many this time. "You should have the same foresight for yourself as you do for these beautiful animals," he advised.
The team took questions and stressed that the hospital wants input and suggestions from the equestrian community for ways they can make their services better. They also detailed new wellness programs stressing fitness and nutrition.
Karen Goor lives in Wellington. Her daughter shows at WEF. "It's my first time attending this," she said. "It has a very nice ambience. I'm happy they offer these talks. I'm looking forward to learning more. I definitely plan to come back."
Barbara Brady, who moved to Wellington last year from New Jersey, was also impressed. "I came to several last year. They have interesting speakers and lovely lunches. I like meeting new people," she said.
Rhianna Pankhurst came with friend and equestrian business partner Mistie Cantey. "They have a good range of topics," Rhianna said. "Top, knowledgeable people presenting information on cutting-edge studies and products."
"I'm happy to be here," Mistie added. "It's like Disneyland for horse lovers."
Future programs are as follows:
WEF 5 – Feb 9: "Advanced Imaging in Lameness" with veterinarian Dr. Ashlee Watts, sponsored by Dechra, makers of Osphos.
WEF 6 – Feb 16: Animal Medical Center.
WEF 7 – Feb 23: "Invisible Workers: The Crucial Role of Working Equines in Sustaining Livelihoods and Food Security," with Kimberly Wells, senior animal welfare advisor, and special appearances by Brooke USA ambassadors, presented by Brooke USA.
WEF 8 – March 2: "Optimizing Your Horses' Topline: Game Changing Nutrition to Impact Performance, Soundness and Health," with Kelly Ann Graber, sponsored by Cargill, Nutrena Feed and Progressive Nutrition.
WEF 9 – March 9: "Common Lamenesses and Effective Treatments," sponsored by Palm Beach Equine Clinic and Dechra, makers of Osphos.
WEF 10 – March 16: "Keeping the Equine Athlete in Top Form: Legend and Cold Therapy" with veterinarian Dr. James A. Orsini from the New Bolton Center, School of Veterinary Medicine, University of Pennsylvania, and veterinarian Dr. Sarah Reuss from Boehringer Ingelheim, sponsored by Merial, now part of Boehringer Ingelheim.
WEF 11 – March 23: Cornell University School of Veterinary Medicine.
WEF 12 – March 30: Wellington Regional Medical Center.
For more information contact Laura Bostwick at (561) 784-1112 or lbostwick@equestriansport.com.