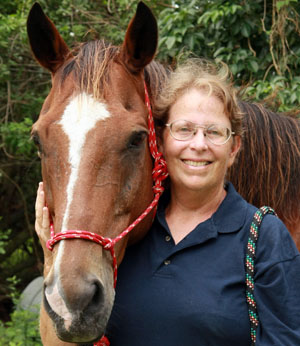 TALES FROM THE TRAIL
Back on Dec. 16, British Feed and Supplies hosted a pre-holiday get-together. The small store, located at 14589 Southern Blvd. in Loxahatchee Groves, was nicely full, as customers and newcomers stopped by to partake of the food and drinks and meet the new owner.
Vieri Bracco bought the store in May 2016 from previous owner Tim Hart-Woods. "I'm Italian, but I was raised in Brazil," Bracco said. "I spent 25 years in the banking industry, but I was also always involved in cattle ranching and sheep breeding, and I used to show jumpers."
His son and daughter were born in the United States after he came here 16 years ago.
"I felt very comfortable doing business in this country. Three years ago, I quit my banking job and started looking for another business opportunity. I searched through thousands of possibilities, and when I found this business for sale, it was like a dream come true," Bracco said. "It's the perfect blend of my business with my personal hobby. I never showed in Wellington, but I watched all the top Brazilian riders come here each season, so I knew how well a feed store in this area could do."
Bracco was impressed by the operation run by Hart-Woods.
"Although this store is a small player in this market, it has got a lot of growth potential," he said. "Tim did a great job of grounding a backyard kind of store and positioning it to expand. I hope to take it to the next level, especially through our customer service. We serve all of the western communities, especially the year-round people who anchor this business."
He is eager to get more involved in the community.
"One new opportunity I'm really proud of is our new relationship with Nona Garson's Ridge Farm and their show series. We're their exclusive feed and hay supplier for this season, and that's very exciting. We fit very well together," Bracco said.
British Feed also has a relationship with Poulin Grain as their exclusive Palm Beach County dealer in multi-species and equine lines of feed. "A lot of horses coming down for the season use this brand, and we'll be able to conveniently supply their needs," Bracco said.
Crypto Aero feed, plus Nutrena, Buckeye, Kentucky Equine Research, Total Equine and Manapro products are carried. "We have Victor and Loyal feeds for dogs, cats, pigs and poultry. The store also stocks shavings along with a nice selection of frequently used supplements, treats, stable supplies, and first aid and grooming items," he said.
Then there's the hay. "We offer a variety," Bracco said. "Our main seller is Canadian timothy and alfalfa, which contains no pesticides or chemicals. We also stock orchard grass and alfalfa, straight timothy, straight orchard grass, peanut and coastal hays from Florida, and a nice timothy/orchard/alfalfa mix from Illinois. We're very picky about the quality of our hay, and if a shipment isn't up to our standards, we send it back."
Bracco keeps the focus on quality.
"We may not be the cheapest supplier around, but we have great, consistent quality. And if a customer ever gets a bad bale, we cheerfully exchange it. We offer free delivery without a minimum order, whether someone needs one bag of feed or 50. Our goal is to serve everyone," he said. "This business is a life-changing prospect. I haven't worked this much in 20 years, but I love every day. It's a real pleasure, doing something I believe in with all my heart."
Bracco plans to expand the store. The pre-holiday get-together was one way he could thank his customers and introduce himself to new clients.
Jo Siciliano, from Loxahatchee Groves, stopped by. "I've been a customer for more than three years," she said. "I like that it's locally owned and run. Being here is like being home. I'm glad the new owner is continuing on the friendly tradition. This is a place where the horse community can meet and feel welcome. I hope they do more social events so we can meet more horse people from all different riding disciplines."
Katie Robicheaux also dropped in. She's a new customer who lives in Massachusetts and is in town for the shows. A trainer and coach, she brought down nine horses for the season and will be using British Feed. "They're very friendly and helpful," she said. "I text in my order, and they get right back to me."
Anna Frensemeyer, founder of Crypto Aero feed, was also on hand, giving out samples and educating people about her unique horse feed. She donated four bags of feed for a free raffle.
Emily Shields won one of the free bags. "This is wonderful," she said. "I transitioned my horse to Crypto Aero a few weeks ago. I love this feed, and so does my mare. Since we switched over, she's doing the best she has ever done."
The store donated two gift certificates for the raffle, for $50 and $100. Anne Burke won the $50.
"This is so cool!" she said. "I've been a customer here for five years. I use their grain, supplements, shavings and some hay. They carry a good variety of stuff. This get-together is a nice way for us to meet and welcome the new owner to the neighborhood. We're glad he's carrying on and hope the store will be here for many years to come."
British Feed and Supplies is open from 8:30 a.m. to 6:30 p.m. Monday through Friday, 9 a.m. to 4 p.m. Saturday and 10 a.m. to 3 p.m. Sunday. For more information, call (561) 633-6003, or visit www.britishfeed.com or www.facebook.com/british.feed.