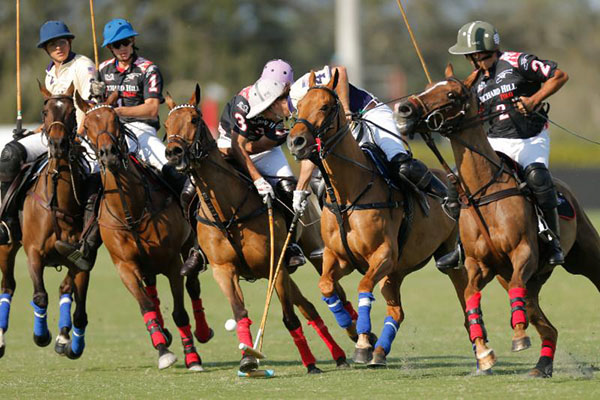 Orchard Hill took a tight 9-8 victory over Valiente II in last Sunday's featured Ylvisaker Cup match on Engel & Völkers field at the International Polo Club Palm Beach.
In two other Ylvisaker Cup games, Mt. Brilliant defeated Goose Creek 9-8, and Valiente I claimed a 10-9 win over Grand Champions/Casablanca.
The matchup of the two undefeated teams in brackets 1 and 2 — Orchard Hill and Valiente II — was a close affair throughout. Neither team ever led by more than two goals.
Orchard Hill got off to an early 2-0 lead after two goals from Lucas Criado, who opened up the scoring by finishing off a run with a nice neck shot from distance. Valiente II answered back, with Diego Cavanagh converting a penalty 4 to get his team back within one goal at the end of the first chukker.
Two more penalty goals from Cavanagh, this time from the 40-yard and 30-yard lines, along with a nice goal from a throw-in by Joaquin Panelo, gave Valiente II a three-goal chukker. It allowed the team to take the lead for the first time in the back-and-forth game.
Both teams' defense created a tight, physical game where every receiver seemed to be covered and top players for each team were held in check. Facundo Pieres converted his only penalty attempt on the day in the third chukker, but his Orchard Hill team trailed at the half 5-4.
The teams matched each other stride-for-stride in the fourth chukker. The game began to open up in the fifth, and Orchard Hill took full advantage. Criado finished off his third goal of the game, while 16-year-old Nico Escobar finished off a nice pass from Pieres for his first goal of the day. Valiente II was scoreless in the fifth chukker, allowing Orchard Hill to take the lead.
Escobar wasn't finished yet, as he took a throw-in only 10 yards from his own goal and ran it all the way down the field for his third goal in a row. Valiente II made a late push, but after the final goal from Escobar, Orchard Hill never looked back. They held on for a close 9-8 victory with Pieres, Criado and Escobar contributing three goals each for a balanced Orchard Hill attack that sent them to the quarterfinals with a 3-0 record.
Duillio Diaz played in place of Orchard Hill patron Steve Van Andel, and Todd Thurston subbed for Robert Jornayvaz.
Facundo Pieres was chosen as MVP, while Pipa, played by Lucas Criado, took Best Playing Pony honors.
The Ylvisaker Cup continues this weekend at IPC, as teams fight for places in the final match on Sunday, Feb. 19. All Ylvisaker Cup games will be live streamed on the USPA Polo Network at www.uspolo.org.
The 2017 polo season runs through April 23 with a wide array of social options available each Sunday afternoon. For more info., visit www.internationalpoloclub.com.
ABOVE: Orchard Hill and Valiente II fight for control of the ball during Sunday's featured match at IPC. Photo by David Lominska