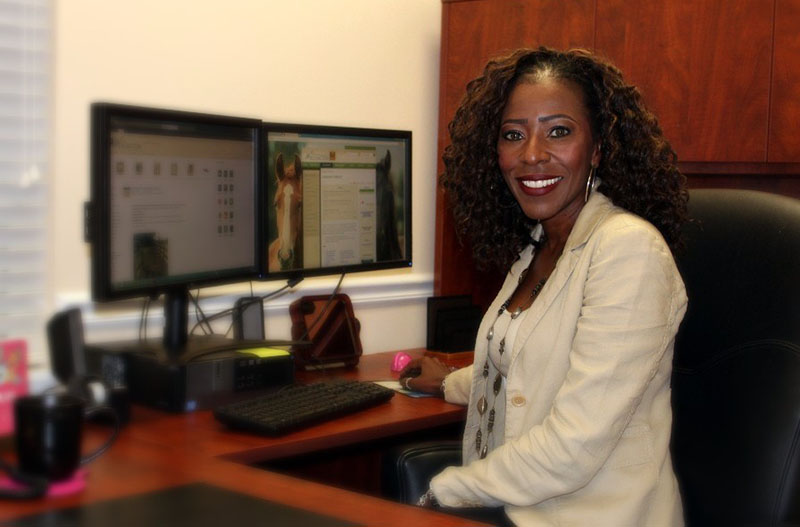 By Jack Lowenstein
When you ask people about what they studied in college, it might seem simple to pair the degree an individual earned with his or her occupation. But, more and more, it seems that education, unless you're specializing, does not dictate your career path.
This was the case for Paulette Edwards, who received her bachelor's degree in accounting and her master's in business administration from Grambling State University in Louisiana, and is now assuming the role as community services director in Wellington.
"I went from calculator to community," she said.
Edwards joined Wellington's Community Services Department in January, where she has plans for furthering community programs.
"When you come to the community services office, we are going to have programs and services for the entire family whether you have children, whether you have a senior in the household, whether you're looking for adult programming," she said. "If you need direct services from our utilities department, public works or code enforcement, we will be able to direct you and coordinate that."
Edwards aspires to create a culture at the department to understand the wants and needs of all community members who set foot inside the building.
"I want community services to be a one-stop shop for residents," she said. "As opposed to trying to figure out, 'Who do I call for what?' I want our office to be almost like a triage. If you go to the emergency room and you really don't know what's wrong, they triage the situation and determine who needs to see you."
This means creating programs and services for families in the community. Edwards wants to be able to address all age groups, providing services and having the right people review each individual question or concern that comes into her office.
"We will be able to direct you and coordinate that, so you won't have to talk to four or five people to get your issue resolved," she said. "We will be your liaisons to make sure that the needs that you have in Wellington will be taken care of."
Edwards worked in Orlando area for more than 20 years before her transition to community services in Wellington. She began her career there as an internal auditor for the local government, where she performed audits on different departments. It was during an audit for the neighborhood services office in Orlando that she found a new career opportunity.
At the time, the department was instituting new grant programs in the community.
"One of the grant programs was the mayor's neighborhood matching grant program, which allowed neighborhoods and community folks to say, 'Hey, this is what we want to see happen,' as opposed to waiting on government leaders, waiting on departments in the government to do it," she said. "They were able to make applications for grants and do it themselves."
However, it required someone with financial expertise.
"They needed someone with financial experience in that department as an administrative liaison, and they selected me," Edwards said. "I became the deputy director for the services office, and that's where my community development experience began."
Since the beginning of her role in neighborhood services, she remained active, serving many roles in Orlando, such as division manager for the Housing and Community Development Department. She would go on to become executive director of a nonprofit organization, Frontline Outreach Youth and Family Center. This position focused on sustainability in community, instituting programs and services to improve the quality of life for children and families in urban communities.
Edwards is originally from Milwaukee, but she has lived in Florida for more than two decades.
"I really enjoy Florida for so many things that it has to offer," she said. "It is a place where you can actually, truly say, 'I work, I vacation, and I have great opportunities for events and festivals."
Not only does she plan to stay in the state, this transition to her new role in Wellington also marks a transition toward the eventual retirement for her and her husband.
"We are empty-nesters," Edwards said. "My son is in college. He's a sophomore at Hampton University in Virginia. He plays lacrosse."
Right now, the family is split between two parts of the state.
"My husband is an educator," she said. "He runs a program for Orange County public schools. And, he just recently got promoted to a position a couple months before I took this position. So, we're commuting back-and-forth every weekend, but it's a lot of fun. He will eventually be coming down."
Edwards said she was looking for a community that she could join and eventually retire from the job and continue to be part of the community. She said she discovered Wellington and visited with her husband, taking a tour, which solidified their love for the village. "When we came down and he toured with me, he said, 'This is you, totally you,'" she said. "And, he said, 'I see us taking it out into the sunset here, so this is going to be a home for us.'"
Diversity in the community was of great importance and a deciding factor for Edwards. She loved the different walks of life that coexist in Wellington.
"To have an equestrian community and to have across the street from the equestrian community an airplane community is pretty awesome," she said.
She has an affinity for the businesses that exist in the village, considering it a place with much to offer.
"Everything is here," Edwards said. "What can I say? I have a mall; I have Panera. Everything is here, and that is really awesome. Massage Envy is here when I get too stressed out from work. It truly has so many great amenities right at your doorstep, and it's so close to everything."
Looking forward into her role with the community services department and the Wellington community, Edwards sees the ability to focus on development in services and revitalization in the community.
One of the programs that Edwards will continue to implement in the community is the Beautiful Wellington grant program, which looks to give homeowners in identified communities the ability to revitalize the outward appearance of their homes. This program is made possible through a grant from Wellington's general fund, she said.
"The value of homes in a community is extremely important to the sustainability, as well as the school system," Edwards said. "The value of your home is very important. In order for Wellington to continue to have high home values, we don't need to have neighborhoods falling into disrepair in terms of their property."
Assistant Village Manager Jim Barnes has great confidence in Edwards and her ability to perform in this new role. "Paulette's expertise and commitment to serving the public will be a valuable asset to the Wellington community," Barnes said in a news release.
Edwards wants Wellington to continue to be a hometown for the people who live here as much as she wants it to be a place she will now call home.
"I continue to hear the same statement that folks moved to Wellington for a hometown, and what that means to me is we hear a lot of times a place where you can live and work and play," she said. "But the underlying point is that you want to be able to drive into a very nice neighborhood with amenities. You want to be able to feel safe in your neighborhood. You want to know who your neighbor is. You want your children to be able to have ballparks and public areas to play in. If you are a senior, or you have an aging parent, you want them to be able to age in their community and age in place in their home."
ABOVE: Wellington Community Services Director Paulette Edwards.