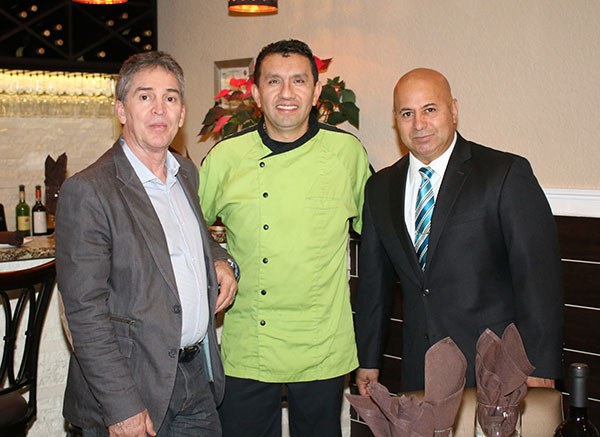 A new restaurant, Rollatini Italian Trattoria, has opened in the shopping plaza at the northwest corner of Southern Blvd. and State Road 7 in Royal Palm Beach.
If the name seems familiar, it's because the owners also own a restaurant called Rollatini in suburban Lake Worth.
The restaurant is owned by chef Victor Duarte and partner Carlos Bedoya. Diago Soler is the catering manager.
"Rollatini is a concept of the family-owned and operated Italian restaurant," Duarte said, "upgrading 10 years later as Rollatini Trattoria."
The food isn't any different; the recipes are the same. The difference is in the dining experience. Rollatini Trattoria offers Palm Beach quality at an affordable price, Duarte said.
"You come here, and you feel like you're in any type of fancy restaurant on Palm Beach island," he said.
The atmosphere — casual and family-friendly — is special, Duarte said, and Soler agreed.
"It's a nice ambiance. The community can also see the restaurant as a venue to host future events. It could be anything from birthday parties, anniversaries or corporate parties," Soler explained. "It's also the perfect setting for weddings that are less than 100 people."
Rollatini offers full banquet services, and they cater on-site at venues as far away as Broward and St. Lucie counties. Popular venues such as the Lake Worth Casino and community clubhouses are frequent locations.
The Royal Palm Beach location opened last September.
"I believe that the Royal Palm Beach and Wellington areas needed this type of restaurant," Duarte said. "Fancy, with a great ambiance and great Italian food."
An extensive menu, covering all the regions of Italy, also includes all the traditional Italian dishes made with homemade recipes.
"Our specialty is homemade recipes. We're very proud to serve our customers," he said.
Favorites include the veal Marsala, and veal and chicken Franchese, as well as ravioli, baked ziti, pizza, salads, calamari fritti, Caprese salad, New Zealand mussels, mozzarella sticks, soup, tiramisu, tartufo, cannolis and more.
Duarte, Bedoya and Soler come from a Colombian background. Duarte had the opportunity to study to be a chef in New York, where he was introduced to Italian cuisine.
"Once he opened Rollatini, he focused on his own recipes, his own ingredients and taste," Soler said. "I have worked for quite a few Italian restaurants. I'm very familiar with Italian food, and wine, as well. When I met Victor, it was a good match. I felt comfortable."
Though the men aren't related, they are like family.
"It's a family anyway," Duarte said. "I feel like everyone who works at Rollatini is part of our family."
"It's a family atmosphere," Soler agreed. "We differ from big, corporate restaurants. We have our own thing to do, our own style."
The restaurant is kid-friendly. Duarte's children eat at the restaurant daily, there's a children's menu and there's always pizza.
Everything is made from scratch at Rollatini, including doughs and sauces.
Quiet music plays in the background, and the restaurant is warmly lit, with plenty of space for an intimate dinner for two or a large, family gathering. Rollatini is reminiscent of a bistro, with wine, bread, olive oil and more.
Rollatini is open from 11:30 a.m. to 9:30 p.m. Sunday through Thursday, and from 11:30 a.m. to 10 p.m. Friday and Saturday.
Catering is available for special events such as weddings, anniversaries, sweet 16 parties, quinceañeras, bar and bat mitzvahs, Christmas parties, fundraisers, birthdays and corporate events.
For more information, call (561) 792-7677, stop by the restaurant at 10107 Southern Blvd. or visit www.rollatinitrattoria.net.
ABOVE: Carlos Bedoya, Victor Duarte and Diago Soler invite you to visit Rollatini Italian Trattoria.