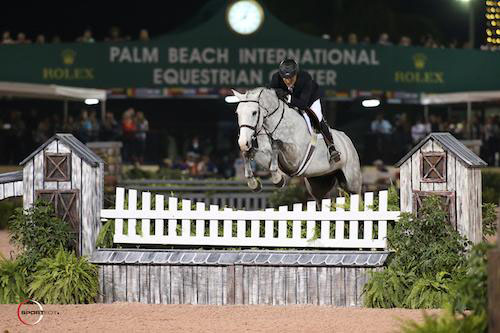 For the second year in a row, Scott Stewart and Catch Me won the WCHR Peter Wetherill Palm Beach Hunter Spectacular, the highlight class on Saturday, Feb. 18 at the Winter Equestrian Festival.
Over the 21-year history of the class, Stewart has been a dedicated participant, but it wasn't until 2016 that he found himself in the winner's circle. This year, Stewart piloted not only the stunning 10-year-old grey Holsteiner gelding to a repeat victory, but also a green 6-year-old KWPN gelding, Private Life, to the second-place position.
The WCHR Peter Wetherill Palm Beach Hunter Spectacular takes place during World Championship Hunter Rider (WCHR) week at WEF as the feature Saturday Night Lights event. The United States Hunter Jumper Association founded WCHR in 1992 to recognize hunter riders, and the Hunter Spectacular debuted shortly thereafter. Each year, hunter riders look forward to the chance to compete under the lights in the International Arena at the Palm Beach International Equestrian Center. Stewart took the top two spots, while Elizabeth Boyd and Maraschino finished third, and rounding out the top four was Maggie Jayne and Standing Ovation.
Thirty of the country's top professionals, juniors and amateurs tackled the two-round course, which is offered at three heights (3'6", 3'9" and 4') and designed by Patrick Rodes. The top 12 riders returned for the second round. Each of the competitors qualified for the class by winning either champion or reserve in one of the specified hunter divisions during WCHR week at WEF or through another WCHR designation.
Scores came from three panels of judges, including Rick Fancher and Tammy Provost on panel one, Jim Clapperton and Shane George on panel two, and Chris Wynne and Mary Lisa Leffler on panel three. Overall placings were decided by combining scores from the first and second rounds.
Stewart, of Wellington, and Catch Me topped the first round with a score of 94.00, and while their score of 88.66 wasn't the highest in the second round, their two-round total of 182.60 was enough for the win. Catch Me is owned by Gochman Sport Horses and is no stranger to the winner's circle. The gelding was recently named the 2016 USEF National Horse of the Year and has been champion numerous times during the 2017 winter circuit.
"He's been really good this whole circuit," Stewart said. "I think he's an even better horse than last year. He was a blast to ride, and after knowing that last year he was so good, I could relax a bit more this year and just have fun. The course rode nice, and it was inviting for the horses."
Stewart rode Private Life to a second-place finish in the gelding's first Hunter Spectacular. Dr. Betsee Parker owns the 2011 KWPN gelding by Verdi. The gelding was sitting in third place with a score of 88.66 going into the second round, but after topping the second round, earning a 92.33, he finished in second place, tallying 180.99 total points.
Earlier in the week, Stewart and Private Life swept the High Performance Working Hunter Division, impressively winning all four classes for the championship title and a coveted spot in the feature Saturday night class. The Hunter Spectacular is limited to two entries per rider, and although Stewart qualified several more experienced mounts, he opted to compete Private Life as one of his two mounts.
"He went really well this week," Stewart said. "Even though he's the greenest, he's probably my easiest horse to ride. He just acts really grown up and rides like a junior hunter. Not only does he jump well, but he's really comfortable to ride."
Elizabeth Boyd knows just what it takes to win the feature event, having won the class on several occasions. After an unexpected dismount from her first ride, Boyd returned to redeem herself. Boyd guided Lily Bennett's Maraschino to a total score of 176.83 for third place. Maraschino is a 10-year-old Warmblood mare that Boyd has ridden on and off since 2014.
"She's a great mare," Boyd said. "She's definitely not the typical chestnut mare. She's super happy and wonderful to be around. The Langmeiers started her; they sort of brought her along as a first year horse. Then we bought her for a client named Lily Bennett. Now Lily is doing jumpers primarily, and she's for sale. I'm fortunate enough to get to ride her, and she's such a trier. I'm really proud of her."
Maggie Jayne rode a new mount, Standing Ovation, to an overall score of 176.49 and fourth place. Standing Ovation is a 2007 stallion. The pair earned scores of 87.83 and 88.66 in the first and second rounds, respectively. The stallion was purchased by Pony Lane Farm in December and has only competed in the hunters a handful of times. Jayne qualified her mount for the class by earning the reserve ribbon in the High Performance Conformation Hunter division.
"I didn't know what to expect," Jayne said. "After the first round, I knew the second round would be even better, because he normally gets better as he goes. He was sensational. Maddy [Thatcher] rides him in the Amateur-Owners, and I normally do him in the green conformation, but this week I did the Regular Conformation. He's a stallion and he knows he's a stallion, but he's an absolute gentleman to ride."
The 12-week WEF circuit runs through April 2, featuring competition for hunters, jumpers and equitation, with more than $9 million in prize money up for grabs.
For more information, visit www.pbiec.com.
ABOVE: Scott Stewart rides Catch Me to victory in the WCHR Peter Wetherill Palm Beach Hunter Spectacular. Photo by Sportfot