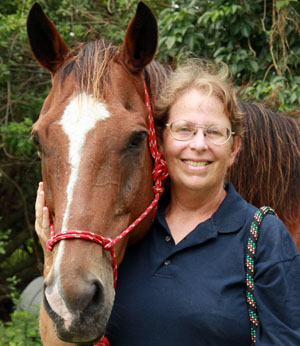 TALES FROM THE TRAIL
With the run of gorgeous weather we've enjoyed lately, consider taking a few hours to stroll around the Winter Equestrian Festival showgrounds. Even if you're only window (or stable?) shopping, you're bound to enjoy your saunter.
There are always classes of some sort in progress: hunters, jumpers, a little of each. It's often more pleasant to watch a couple of rounds than to watch try after try, which can get repetitive. Observing a couple of rounds here and a few there adds variety.
Just as interesting is standing near the warm-up rings and watching the riders and horses school and prepare. You can watch from close range and spot their strategies and techniques.
A few animal rescues have booths. Danny & Ron's Rescue often has some irresistible dogs who would just love to go home with you, and the friendly volunteers are more than happy to tell you each dog's strong points. If you're feeling a bit out of alignment or sore, you can also drop in at Gloria Moore Massage for a feel-good experience. Appointments are accepted, and walk-ins are welcome.
Just For Fun offers blinged-out brow bands, spurs, and tons of dog collars and leashes — perhaps for the lucky mutt you just adopted? Other shops offer shoes and sandals, handbags, socks, hats, scarves, sunglasses, jewelry, antiques, artwork, photographs, sculptures, more pet items, housewares, and clothes of every style and persuasion, both for down here and to take back north with you to the cooler climes.
Thinking of heading off to Africa? Safari Royale can create a tailor-made safari for you and your friends. Their choices include equestrian safaris, luxury rail travel, family safaris, romantic safaris, classic tented safaris, private beaches and treehouses.
You can schedule a photo session for yourself, your horse, your dog or any combination of whatever you'd like with David Erdek Photography. They can work on site at WEF or come to your house or farm. Another on-site photographer, Anne Gittins, is also available.
And, of course, there are horse items. Lots and lots of horse items. Anything having to do with horses, or barns, or riding, or showing — if you can use it in conjunction with a horse, you can find someone selling it here. Shop after shop of gorgeous saddles and leather goods; rack after rack of breeches, shirts, helmets and boots.
Some are not for the faint of wallet. Hermes saddles range from $6,750 up to $8,500. They do, of course, offer other items, including ties, scarves, gloves, bracelets, bridles, saddle pads and rolling tack trunks: "everything for the horse, stable and rider," as a helpful salesman said. Right next door, Ariat has a full line of clothing, boots and vests with the most adorable hound or fox fabrics.
Bruno Delgrange is in the same spot, near the warm-up ring for the International Arena, and they have both new and used saddles for relatively reasonable rates. Right across from them, Animno has a store filled with their line of breeches, show shirts, jackets, boots, saddle pads, polo shirts and jeans.
Voltaire saddles, made in France, are very light and flexible. CWD Saddles also has a nice variety, new and used, which, as the salesman pointed out, are already broken in and so are more comfortable. Beval Saddlery offers a comfortable store stocked with a nice selection of equipment and clothing, barn supplies and horse treats, and yet more reasonably priced saddles. Other well-known companies have trailers filled with all sorts of neat stuff: Antares Saddles, Hadfield's Saddlery, Tack-N-Rider and Running Fox Fine English Tack & Apparel.
The DeNiro Boot Company, maker of world-class boots, has a nice display. The leather is treated to be water-resistant and anti-cracking, so it stays dry and breathable. There are many finished boots to examine, handmade in Italy, as well as swatches of available leathers in all sorts of colors and finishes, and tons of customizing options. In addition to jumper, polo and dressage boots, they also make short boots with matching mini-chaps, western boots and sneakers.
Sharon Lynn Campbell's booth showcases her oil paintings and ceramics, all dog-themed or horse-themed. Cover artist for many show lists and magazines, she is available to visit your farm, photograph you and/or your animal, then create a custom oil painting to your specifications. "I usually work on seven to 10 portraits at a time," she said. "They take a while to dry because of the humidity here in South Florida. A finished portrait usually takes 10 to 12 months."
If you're just browsing for common, everyday stable essentials, definitely pay a visit to Equine Tack and Nutritionals, at the very back, near the permanent barns. The double-wide trailer is crammed with everything, and at very reasonable prices. They have vitamins and supplements, saddle pads, fly spray, fly masks, bits, bridles, brushes helmets, horse treats, hoof dressing, hoof picks, buckets, blankets, twitches, pitchforks, leg wraps and whatever else you can think of.
"I've been here two months, and I'm still learning all of the products," saleswoman Mindy Verzillo said. "We carry more than 50,000 items. We're pretty busy all day long."
So yes, by all means, spend an hour or two browsing, and perhaps buying, stuff you need or simply want. You may spot an item you'll not find elsewhere. And even if you don't, there's nothing quite as enjoyable as wandering around with like-minded people out in the sunshine, dodging golf carts and horses, getting away from the problems of everyday life. Learn more at www.pbiec.com.