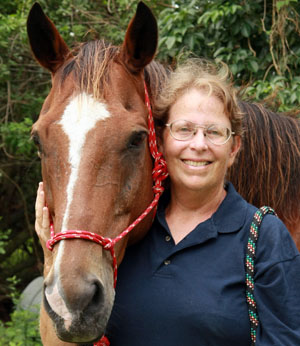 TALES FROM THE TRAIL
The weather provided a perfect backdrop for the show: cool, windless, a nearly full moon rising. The Global Dressage Stadium was sold out on the evening of Sunday, Feb. 12 for Althea, a Cavalia-type equestrian show supporting the Equestrian Aid Foundation (EAF).
The EAF is a nonprofit organization that assists equestrians coping with life-changing injury or illness and financial crisis. It provides assistance with basic living and rehabilitative expenses to riders, trainers, farriers, grooms, horse farm owners and other equestrians who need a helping hand.
The EAF holds an annual fundraising event, and this year's was, by all accounts, a rousing success. The doors opened at 6:30 p.m., and the seating quickly filled, both general seating outside in the bleachers and VIP tables inside, which included cocktails, hors d'oeuvres and a buffet dinner.
Back in the stable area, the performers, former Cavalia artists Sylvia Zerbini, S. Caleb Carinci Asch and Kansas Carradine, were getting ready. The performance was created exclusively for this event. Produced by Keith Greco, Althea was a tribute to the relationship between horses and humans. The equestrian ballet told the story of Argos, a horseman who is crippled and despairing, who finds himself in a land where a magical stallion, Althea, has the power to heal.
Renee Spencer, one of the lasso artists, was busy twirling. "We've been preparing for a few months," she said. "It's fun working together for such a great cause. I hope the audience enjoys it tremendously."
Kansas Carradine and her daughter Phoenix, 11, was also getting ready. "We produced this show in only three months, which is a very short time," she said. "It's very moving, being able to help the EAF. I hope the show touches people, and they see the healing power of horses, which is intangible but very real. Horses restore your heart and spirit."
Many EAF volunteers were on hand. Nora Janssen, who runs Karen's Equine Intervention, helped check in VIP customers. She received an EAF grant in 2014 when she became injured and needed a hip replacement. Her foundation, a local affiliate of Horses4Heroes, provides equine-assisted therapeutic sessions for children and adults coping with chronic illness.
"The EAF is wonderful," Janssen said. "Many people working in the horse business are independent employees. They don't have benefits like people working for businesses. And you can get hurt very badly very quickly around horses."
Carrie Wirth with EQ Media was another volunteer. "We were pleased to support this event with marketing and advertising," she said. "They're a wonderful foundation. It's was also terrific that so many Cavalia performers worked on this show. Kudos to Louise Smith, EAF executive director, who planned this event. I know it's going to be a really fun night."
Those in attendance were waiting for the show to begin. "We're looking forward to this," said two VIP guests, Ann Vitunac and Anthony Yanketis. "It's doubly meaningful, supporting such a worthy cause. Riding is a wonderful sport, but also a dangerous one. We're looking forward to a fun evening with good friends and an enjoyable show."
The show began at 7:30 p.m. with a welcome and live auction. Silent auction items were also available, arranged on tables in the VIP tent. They contained some unique items, including a vintage Mercedes, a month of training with Olympic dressage team member Steffen Peters and a sunset yacht cruise.
The show began at 8:10 p.m. with a guitarist sitting on the arena's sand in a spotlight. Behind him, a video screen proclaimed, "There is nothing permanent but change." The guitarist left, and three white liberty horses entered, circling a woman. All of the women were dressed as Greek goddesses, in flowing white costumes. A black liberty horse joined the group as the lights around the arena morphed from blue to purple to gold. Three lasso girls joined the ensemble, working the ropes up and down, jumping in and out, and even whirling lariats in each hand.
These performers were replaced by three liberty horses, two white and one black, and a female handler. The horses bowed and wove figure eights. One horse decided to roll in the sand, and the audience laughed in understanding and appreciation of the horse being a horse.
The evening progressed. A woman did gymnastics while suspended from a hoop swinging high above the stadium floor. Three women and a man, seated on a pinto draft horse, entered. The women did more rope work, two on either side of the horse, one standing on its back behind the man.
At 8:30 p.m., another woman entered working her white liberty horse through Spanish walk, cantering figure eights, passage, piaffe and levade. Three more white liberty horses joined them, and they performed circles and pivots, moving nicely as a group, galloping around, ending in a line with their noses over the next horse's back.
Next, two women dramatically cracked whips aglow with golden fire, followed by a man doing gymnastics while suspended by two ropes attached to his wrists. Then came more liberty horses, six white and one black, directed by a single woman, working through different gaits, changing direction, wheeling together and lining up. The show ended after 9 p.m. with a man doing gymkhana moves, riding standing up and leaping back and forth from a bay to a pinto.
Joe McClosky, a VIP guest and EAF recipient, watched raptly. "I was a farrier for 40 years," he said. "In 2007, a horse kicked me, almost shredding my spinal cord. The EAF helped me through five surgeries and years of rehab. They took care of me completely, made sure I wasn't out on the street. I never saw anything like them. I was always the head of my family, the one caring for everyone. Asking for help was hard, but they knew how I felt. They're my knight in shining armor."
For more information, visit www.equestrianaidfoundation.org.