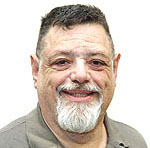 'I' ON CULTURE
Some movies redefine categories. When done really well, as Get Out is, we can realize how often the stereotypes we accept so easily fall apart. The film is, at its core, a horror film, but race and the feelings of one race for another permeate all the action. Nonetheless, it is also a funny film, and a triumph for writer/director Jordan Peele.
The movie starts out setting some stereotypes, or perhaps not-so-stereotypical things, on their ear: a young black man walking through a suburban neighborhood while chatting on a phone. Suddenly, a car turns and begins following him. Many news stories pass through our brains, and then the real story begins.
Chris (Daniel Kaluuya) is a successful photographer with the requisite dog, nice place and loving girlfriend Rose (Allison Williams) who is taking him to see her parents. "Do they know I'm black?" he asks. She laughs at the idea, assuring him that her folks are so liberal they wanted to vote for Obama for a third term.
His best friend Rod (Lil Rel Howery) urges him not to go, saying things seem far too simple. When he finally gets to suburbia, her parents seem to fit the bill. Neurosurgeon Dean (Bradley Whitford) goes out of his way to be gracious while Missy (Catherine Keener), a psychologist/hypnotist, is fascinated. Actually, it soon is clear that nothing is quite what it seems. Dean is too friendly and Mary too interested. She is quick to offer him hypnosis as a cure for his smoking habit, and some of what happens when he goes to what she calls "the quiet place" is fascinating. Rose's brother Jeremy (Caleb Landry Jones) is different; right from the start he seems nasty. Somehow, even words that could be considered compliments seem off-putting.
Chris is quickly enveloped in an overly friendly white, liberal atmosphere. Everyone tries so hard, far too hard, to be accommodating and friendly. There are a few blacks, the most obvious being maid Georgina (Betty Gabriel). The blacks seem to be ultra-stereotypes: the overly solicitous maid who seems straight out of Gone With the Wind until you really speak to her, the groundskeeper who is robotic, and the gigolo with the much older woman. The movie feels like a riff on Guess Who's Coming to Dinner?
But things start to go very wrong. I will not say much more for fear of giving too much away, but when things go wrong in this film, they go very wrong. Peele, who is part of media pair Key and Peele, knows how to balance social satire really well. He cleverly uses liberal America as a dartboard instead of what would seem to be a simpler target with conservatives. The phony compassion and overly friendly behavior works well as a touching off point.
None of this would have been accomplished with a weak cast. Kaluuya is brilliant. Peele focuses a lot of the film on his facial expressions; interesting because the character is clearly trying to be poker-faced when not responding in friendly fashion. But his eyes clearly give everything away. This is a great performance and really carries the film. His phone calls with his friend Rod commenting on what is happening are excellent and, to put it mildly, pointed.
The rest of the cast is also strong. Whitford and Keener manage to be aggressive even while welcoming Chris. Williams is great as the adoring Rose. Gabriel, however, steals every scene she is in. I would like to see a lot more of her. Howery is hilarious in his smaller role. The commentary on what is going on manages not only to highlight Peele's points about racial interaction but also to be really funny. It provides an extra level of commentary all throughout the film.
The film works because it mocks pretension and hypocrisy really well while being blisteringly funny. But Peele goes much further. Had this been a simple racial blast, it would disappear. Instead, it fascinates.
This is not a movie for everyone. Children, particularly younger ones, should not see it. Moviegoers will enjoy it more if they're relaxed about social commentary. Peele holds back relatively little.
The audience was not large when I went, but just about all of them had a good time. If it sounds like this would be fun, see it. If you are not certain, well, there are other options. The film is good, but basically for a select audience.