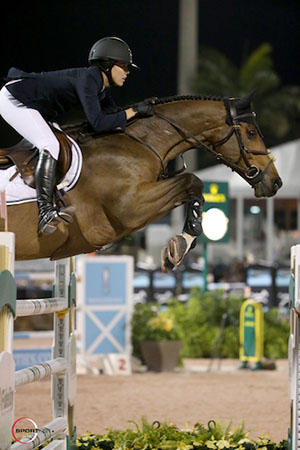 Karen Polle and With Wings made it two-for-two during week nine of the 2017 Winter Equestrian Festival with a victory in last Saturday night's $380,000 Douglas Elliman Grand Prix CSI 5*, presented by the Bainbridge Companies, after also topping last Thursday's $130,000 Ruby et Violette WEF Challenge Cup, the Grand Prix qualifier.
U.S. Olympian Margie Engle riding Royce and Spanish Olympian Sergio Alvarez Moya aboard Charmeur placed second and third.
Alan Wade's course got the best with only four out of 39 entries clearing the first round without fault. In the jump-off, Polle and her 14-year-old Dutch Warmblood gelding were the only pair to complete a second clear track, racing through the timers in 42.42 seconds.
Engle and Gladewinds Partners' Royce had one rail in the double combination and finished in 43.36 seconds. Moya and Charmeur dropped one rail at the final fence in the jump-off with a time of 43.81 seconds. Quentin Judge placed fourth, riding Double H Farm's HH Conrad to 12 faults over the short course in 45.22 seconds.
"The week could not have gone any better. I won both my classes, and my horse jumped unbelievably all week, every jump," Polle said. "He really helped me out, and he felt great tonight, so I am really, really happy."
Last Saturday was Polle's first time jumping clear, and her first time jumping off in a Saturday Night Lights Grand Prix at WEF. She had the great confidence of a longtime partnership riding With Wings.
"When I first got him, I did not know so much. I was still a junior, but I knew he was special," Polle said of their seven-year partnership. "I really believed in him, and I did not ever feel like there was a jump that was too big for us, or a course that was too difficult for us. I am just really glad that we were able to win, because I have always felt like he is a real winner."
During their years together, Polle and With Wings have had the guidance of some of the biggest names in show jumping, such as Scott Brash, Mario Deslauriers, Ian Millar and Paul Schockemöhle. On Saturday night, Polle was competing under the tutelage of Olympic champion Rodrigo Pessoa of Brazil.
"I have been really lucky to work with quite a few top professionals," Polle said. "All of them have really helped me and Wings get to where we are now. I used little things that I have learned from all of them tonight to do the course, and to do the jump-off."
Engle was aboard her talented mount Royce for a second-place finish. She was happy with her horse's efforts.
"He has felt great all circuit," Engle said of the 13-year-old Oldenburg stallion. "Karen just was the one to beat this week. She was on fire. I was very happy with Royce. He has been riding very well. He jumped well on Thursday and then again tonight. I just jumped in a little big into the [jump-off] double. I just needed to nip inside."
Moya was riding a less experienced mount for the night's competition with his 10-year-old Dutch Warmblood gelding Charmeur.
"I am very happy the way he jumped today. It is his first big Grand Prix," Moya said. "He is pretty sensitive, and I was doubting actually until last night if I was going to ride him in the Grand Prix or not, but he is normally very brave. I was very happy when I saw there were only four in the jump-off. I knew they were fast, but I had to be a little careful at the number three. In the first round, my horse did a little bit of a funny jump, and I did not want to scare him in the jump-off."
Representing Douglas Elliman Real Estate, Don Langdon remarked on the evening's competition and praised the riders on a great night of sport.
"First of all, congratulations to the top three — Margie, Sergio and Karen," Langdon said. "It is great for me, who does not ride, to participate for the last 30 years and to see the growth of what has happened in this community. Mark [Bellissimo] has built this brand far greater than any sights that we had ever imagined. Douglas Elliman is the fourth largest real estate company in the country. We are a private company, which is great. This plays right into our brand. We like to patronize the people who also patronize our company, and obviously, the equestrians have been an amazing role in our success in the Wellington area."
Equestrian Sport Productions CEO Mark Bellissimo was also happy with the evening's competition.
"There were people years ago who said that we would never fill the seats when we built them, and I think the reality is that we are coming consistently every Saturday with pretty much a full house," Bellissimo said. "I think it is a testament to the athletes here. People here are developing a following. I think the sport is really taking hold in this community, and hopefully, that is something that can be replicated in other markets."
As the grand prix winner, Polle was presented the Herman "Kappy" Kaplan Perpetual Memorial Trophy. She was also given the Leading Lady Rider Award for week nine, presented by Martha Jolicoeur of Douglas Elliman Real Estate.
Also competing in the International Arena on Saturday, Giavanna Rinaldi and Haylie Rolfe's Caretina III won the $10,000 SJHOF Junior Jumper Classic, presented by Sleepy P Ranch.
The $15,000 SJHOF High Amateur-Owner Jumper Classic, presented by Engel & Völkers, saw a win for Lacey Gilbertson and Seabrook LLC's Baloppi.
Kamille Marcussen and Bull Run's Pistol Pete were also victorious in the $1,500 Martha Jolicoeur, Douglas Elliman Low Amateur-Owner Jumper speed class.
Junior, amateur and professional hunter riders guided their horses around the grass derby field at the Palm Beach International Equestrian Center's Equestrian Village on Saturday morning in the $10,000 USHJA National Hunter Derby. The class was awarded in two sections, a junior/amateur section and an open section, and consisted of first and second rounds, where the top 12 competitors returned for a handy trip.
Kat Fuqua of Atlanta won her second big class of the weekend. After winning the $5,000 USHJA Pony Hunter Derby on Friday, she bested a field of 20 juniors and amateurs aboard High Noon 3E. The pair earned scores of 83 in the first round and 84 in the second round for a combined total of 167. Kira Telford of Chicago claimed the second-place ribbon. Telford rode Calistoga Gold to matching scores of 82 in both rounds, for an overall total of 164.
The 12-week WEF circuit runs through April 2, featuring competition for hunters, jumpers and equitation, with more than $9 million in prize money up for grabs. For more information, visit www.pbiec.com.
ABOVE: Karen Polle rides With Wings to victory at WEF.