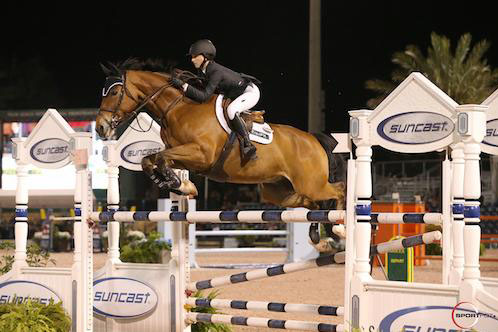 Seventeen-year-old Lucy Deslauriers topped a lineup that included Olympians and some of the fastest riders in the world on Saturday, March 4 to win the $100,000 Suncast 1.50m Championship Jumper Classic with Hester at the 2017 Winter Equestrian Festival in Wellington.
Course designer Ken Krome set the track for last Saturday night's 1.50m competition, which featured 49 entries jumping under the lights in the International Arena and yielded a nine-horse jump-off. Seven entries cleared the short course without faults, and it was the youngest of the pack who jumped to victory in the fastest time of 37.06 seconds.
It was the biggest win of a blossoming show jumping career for Deslauriers, who has been extremely successful in Under 25 events throughout North America over the last several seasons. She was aboard Lisa Deslauriers' Hester, the 12-year-old Belgian Warmblood gelding that she has ridden to success for almost five years.
"It was incredible!" Deslauriers beamed following her victory. "Hester definitely felt the atmosphere tonight, and he really thrives on that sort of situation. He feels a crowd. He knows it is under the lights, and he knew it was time to perform."
Remarking on the group of riders in the jump-off, Deslauriers said, "It was pretty intimidating. I knew there were a bunch of really fast combinations… I am lucky that my horse is super quick, and he has a huge stride."
Deslauriers jumped in two 1.50m events in 2016, but it was her first time competing at that level with Hester in a major night class. "It was definitely a step-up," she said. "It really just felt like a grand prix under the lights. I tried to think about my plan, and not really worry about how big it was, and just ride the best that I could."
Darragh Kenny finished second, riding Kerry Anne LLC's Bolero III through the timers in 37.28 seconds. Kevin Babington placed third aboard veteran partner Mark Q in 37.48 seconds, and Alex Granato guided Page Tredennick's Carlchen W to fourth place honors in 37.94 seconds.
Meanwhile, it was a win for Mexico in Saturday's $35,000 Hollow Creek Farm Under 25 Series Grand Prix at WEF, as Eugenio Garza and El Milagro's Victer Finn DH Z topped a field of 49 starters.
Seven entries advanced to the jump-off, where only two were able to clear the short course without fault. Garza cleared the track in 31.10 seconds. Jennifer Gates placed second in 33.21 seconds aboard Evergate Stable's Pumped Up Kicks. Alex Matz completed the fastest four-fault round in 30.55 seconds to place third riding D.D. Matz's Cashew CR.
Garza was aboard a special horse in the nine-year-old Zangersheide gelding Victer Finn DH Z, which he purchased from Belgium's Jos Verlooy in May 2016.
"He is actually the son of the first grand prix mare I ever had named, Seagull," Garza said. "That mare was pretty much the one that got me into riding, but she was plagued with injuries. She never really got to do anything, but her son Victer is an amazing horse. He has so much heart and so many good qualities, just like his mother. He is a really special horse for us."
Remarking on her round with the 14-year-old Brandenburg gelding Pumped Up Kicks, Gates said, "I did this week in preparation for the five-star next week with Kix. After the four-star a few weeks ago, he has had a little bit of a break, which is nice."
Third place finisher Alex Matz was aboard Cashew CR, a 9-year-old Holsteiner gelding that he got last summer.
"He is relatively new, and he is just sort of coming into his own right now," Matz said. "It has taken a while for us to mesh, but he has tried tremendously every round for me. He has all the ability in the world, and he has been really a great new horse."
While Matz was competing in only his third Under 25 event, Gates and Garza each have more experience in the series. For Garza, this is his third year competing in the classes and a great opportunity for both horse and rider.
"We really like the series, and the grand prix is a great class for us," Garza said. "Even more so this year now that the grand prix are ranking classes [in the U25 Series]. That is unbelievable."
Victer Finn DH Z was also presented the Champion Equine Insurance Jumper Style Award for week eight by Laura Fetterman.
The Hollow Creek Farm Under 25 Grand Prix Series, presented by the Dutta Corp. in association with Guido Klatte, was developed as a bridge to the international level of grand prix competition. The series gives athletes, both human and equine, an opportunity to compete under conditions that competitors will face as their international careers progress. The series concludes with the $50,000 Hollow Creek Farm Under 25 Grand Prix Final, which the top 30 riders in the point standings will be invited to contest on Sunday, April 2.
The 12-week WEF circuit runs through April 2, featuring competition for hunters, jumpers and equitation, with more than $9 million in prize money up for grabs. For more information, visit www.pbiec.com.
ABOVE: Lucy Deslauriers and Hester jump to victory at WEF. Photo by Sportfot