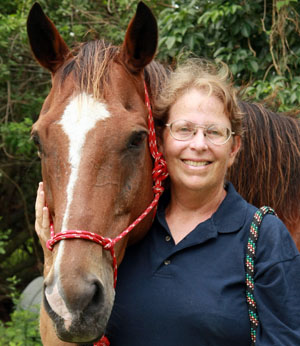 TALES FROM THE TRAIL
When I visited the Southern Extreme Rodeo back in November, it was a wonderful evening. If you missed it, the rodeo will be back later this month.
Under a clear sky, a light breeze cooled the steady stream of people arriving at the South Florida Fairgrounds for the big night.
Spectators eagerly wandered past displays of horse trailers, western saddles, purses, jewelry, T-shirts and hats. They were old, young and every age in between, many families with small children or babies in strollers. There were lots of jeans and cowboy boots.
Picnic tables invited people to sit and enjoy the food offerings as well: Italian ices, kettle corn, hot dogs, hamburgers, fried chicken, pulled pork, grilled cheese, cold beer and more. Some youngsters lined up for the petting zoo or pony rides. Gradually, everyone funneled into the tent and found seats in the Agriplex arena.
Out back, pens held the livestock that would be featured in the night's event. The horses and 22 bulls looked relaxed and well-fed, munching on hay, patiently waiting their turn. Some pens held two to four bulls or two or three horses, and some stood alone.
Cody Sumlin works with Unshackled Cattle Co., which brought in a dozen of the bulls. "We like bulls who buck high right out of the chute, then spin and change direction fast," he said. "They like to perform. They know their job. Each has his own personality."
Jacquie Ezzo, one of the event coordinators, helped the 3,000 to 4,000 people find seats. "Tonight's awesome," she said. "It's going really well. We have some great broncs, bulls and riders. The rides fill up fast, and we have a large waiting list."
This was an event sanctioned by the Southern Extreme Bull Riding Association (SEBRA), and the points counted toward year-end standings and awards.
Rodeo clown Mike Wentworth was getting ready. "I've been doing this for 22 years," he said. "I started out riding bulls, then somehow progressed to entertaining people. I like making them laugh, helping get their minds off the problems in their lives. It's pretty steady work. I stay busy 11 months, do about 100 performances a year. It's good money and absolutely easier than riding bulls."
Jimmie Brownlee was one of the judges. "We give marks to both the riders and the animals," he explained. "They can earn one to 25 points each. The rider should stay in control, and they have to stay on for eight seconds. The animal should spin, change direction and buck with intensity."
Chris Smith, originally from Loxahatchee, now lives in Georgia, but he was back in town to try his luck bronc riding. "I like the fun, escaping from reality for a few moments," he said. "I hope I get a horse who jumps real high to impress the judges. I like living on the road, following the circuit. Being back here's nice, seeing a lot of old friends."
Dusty Whidden from Ohio has been riding bareback broncs for 14 years. "We get to change our dreams every day," he said. "Not many people can say that. Winning feels likejust another day. You go along, win a lot, then hit a slump. I won five in a row, then got bucked off yesterday."
Russ Spreckelmeier, also from Ohio, straightened out his hack line, getting ready for the saddle broncs. "We're the coolest," he informed me. "I like the challenge. Just me and the horse."
Lamar Lehman from Indiana used a wire brush to clean his bull rope. "Riding bulls is an adrenalin rush," he said. "A buddy got me interested in bull riding, and I've been hooked ever since. The best rides are bulls who spin close to the chute. The fun ones have a lot of kick and buck to 'em."
Jessi Quinn from Fort Meyers waited for the barrel racing with Swagger, her Quarter Horse gelding. "I love the speed of it," she said. "This is my first time at this arena. It looks pretty good. Guess we'll find out."
By 8 p.m., the show was ready to start. The announcer welcomed everyone, a color guard entered, followed by two members of the Palm Beach County mounted unit. A woman galloped in holding an American flag. Misjudging the turn, she fell off, remounted and galloped around again. The crowd stood for the national anthem, many singing along, and a clergy member offered a nondenominational prayer.
The riders were introduced, hailing from all over: New York, Ohio, North Carolina, Pennsylvania, Oklahoma, Massachusetts, Indiana, Virginia, Tennessee, Georgia, Alabama and Florida. The saddle bronc riders went first, and only three stayed on long enough to score. The clown took a turn entertaining the crowd, then came the first half of the bull riders; only two stayed on.
Youngsters 12 or younger were invited into the arena for the calf scramble. About 100 kids chased a calf, attempting to grab the ribbon tied to its tail. People stood and stretched as Dodge trucks drove around, Hooters girls were in the backs flinging Frisbees and hats to the crowd. The second half progressed: bareback riders, barrel racers, the last 11 bull riders, three of whom hung on and scored.
"My whole family came to watch," said Elizabeth Potts of Wellington. "It's our first time here. The kids love it. It's a fun family event, very safe, a good crowd. I'd absolutely recommend this to anyone."
Karen Cook from Wellington was also a first-time observer. She and her husband decided to come after seeing bull riding on TV. "We came to enjoy it in person," she said. "I'd say to everyone who goes to watch polo — that's nothing. You should come here and watch this!"
If you missed the November event, don't worry. The next one at the South Florida Fairgrounds will be March 10-12. For more info., search for "Double K Rodeo Productions" on Facebook or call (205) 790-3452.