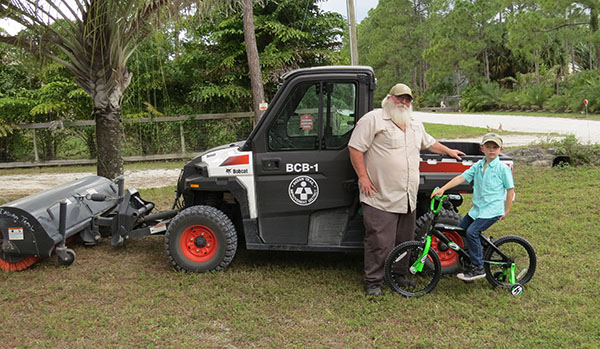 BY JACK LOWENSTEIN
It's not every day that you come across Santa Claus on a Bobcat, sweeping the streets of The Acreage, but for Jake Buck, that is exactly what he experienced one afternoon with his grandmother, Annie San Martin, when they had been spending time together in front of her home.
Jake, a 6-year-old kindergartner at Acreage Pines Elementary School, had been riding his bicycle with the training wheels off for just a couple of days. His bus stops near his grandmother's home after school, and they wait for the mail together.
Jake was riding in the street near the driveway when he stopped in front of an Indian Trail Improvement District employee, who was doing his daily rounds cleaning residential streets in The Acreage.
"He just dead stopped; he was so sure he saw Santa in the street sweeper," San Martin recalled. "He just screamed, 'There is Santa.'"
Jake had now decided he was in the presence of St. Nick.
"Here comes Santa with his street sweeper," San Martin said. "And it looks like Santa to me, and I waved at him and he pulled over."
This wasn't the first time that Tim Benton has been mistaken for the man who flies through the sky with his pack of reindeer once a year.
Benton has publicly played Santa Claus for children and families at events in The Acreage. So, he wasn't new to the role.
"We said hi to him, and he just totally went along with the whole thing," San Martin said of their interaction with Benton.
San Martin said all she had to do was wink at Benton when she said hi to him as Santa Claus, and he immediately greeted Jake as jolly Santa Claus from the North Pole. Before Jake and San Martin said goodbye to Santa, they both had a picture with him next to the sweeper.
For most people, you would probably assume that Santa would only have time to meet with a particular child once in a lifetime, but this was not the last time that Jake and Benton would meet.
San Martin was so impressed and appreciative of Benton's actions that she went to Facebook to let everyone know how Tim Benton from ITID had made the day for her grandson, Jake.
This also brought a great amount of joy to the department people who Benton works with at ITID. They, too, had a great enthusiasm for Benton's actions.
"They were really happy that Tim took a few minutes out of his day to just talk to this little guy," San Martin said.
But soon after Jake met Santa, he learned that sometimes there are individuals who will take what doesn't belong to them when his beloved bike was stolen.
So, who better to make Jake's frown turn upside down than Santa Claus? It was the original story about Benton and Jake that got ITID employees together to decide they needed to do something to make up for the loss of Jake's bike.
"Jake's bus is always late, and that day, the bus and Santa met almost at the same time," San Martin said. "So, as Jake was getting home from school, Santa was back with a new green bicycle for Jake."
ITID set up a whole welcome home party for Jake before he arrived last Thursday, and when Jake got off the school bus, Santa was there to greet him.
"He was really in shock when he saw this bicycle in the back of Santa's Bobcat," San Martin recalled. "I mean, he couldn't even speak. He was just mouth open and staring."
San Martin was nothing but grateful for the gesture that Benton had given Jake when they first met, and she was further overjoyed by the actions that the entire department took to bring Jake a new bike.
"The whole thing was so much fun, and ITID was so incredible about everything. We couldn't believe the staff had chipped in over there like they did," San Martin said.
Jake, the boy who personally received a bike from Santa Claus and ITID, seems to have been humbled by the turn of events since meeting Santa.
"We met him down where my bus stop is; I was surprised," he said.
ABOVE: Indian Trail Improvement District employee Tim Benton presents Jake Buck with a new bicycle.