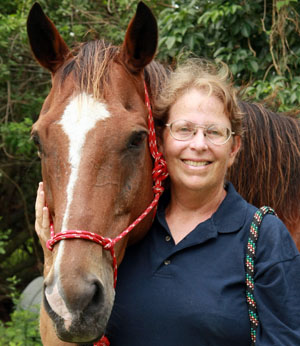 TALES FROM THE TRAILS
A lot of people, myself included, were thrilled when Tropical Hay & Feed opened in the Grove Marketplace on Seminole Pratt Whitney Road. Owners June and Bob Orvis started out trucking hay down from southern Ontario, then finally took the plunge and opened the store in 2013. But then tragedy struck. June suffered a stroke and passed, and Bob didn't want to stay on alone. The store closed abruptly in 2016.
However, the location did not stay closed for long. Andrew and Danielle Parsons live in Loxahatchee with their menagerie of cows, goats, donkeys, dogs, cats and Warmblood horses, which they breed. Four years ago, they started a small hay business, delivering bales to friends and neighbors.
"We saw a need for affordable hay of consistent quality," Andrew said. "It also helped offset the cost of feeding our own animals."
Through word of mouth, the business quickly grew, and they were kept busy bringing bales of orchard/timothy and Tifton hay, from their own farm in Georgia, to various houses. Then the empty store became available. They contacted the leasing company and took possession of the bay located at 5046 Seminole Pratt Whitney Road on Oct. 28. Customers began stopping by, but there was still a lot to do to get ready.
"Opening the store was pretty scary," Andrew said. "A huge step up, venturing out on our own like this. But we feel very strongly about staying here in our community and helping out other animal lovers like ourselves. Right now, we're trying to build relationships with our suppliers. We're keeping our fingers crossed that everything works out."
Andrew has lived in Palm Beach County all his life. He and Danielle met in high school, and she got him into horses. They've been together for 16 years.
"It's very exciting," Danielle said. "I'm glad so many people showed up. We're conveniently located, so it's easy for people to stop in on their way to or from work. It's a relief to finally have our store launched."
In addition to Andrew and Danielle, there's Tim, who mans the delivery truck, and store manager Holly Morrell.
"I worked at another feed store, but decided to come here," Holly said. "I've lived in Loxahatchee 35 years. This is where my heart is. I enjoy supporting my community."
The very name of the store reflects their love for Loxahatchee, which is the Seminoles' description of the place: River of Turtles. Hence, Turtle Creek.
The store is open Monday to Friday from 8:30 a.m. to 7 p.m., and Saturday from 10 a.m. to 4 p.m. They offer a full line of Mana Pro, ADM and Buckeye feed for horses, goats, pigs, rabbits and chickens, Victor dog food, shavings, and shelves full of supplements, first aid items, fly spray, buckets — all the usual suspects. They're also willing to stock additional suggested products. As Danielle said, "If you don't see it, ask."
They have a variety of hays starting at $11.95 a bale, 2- and 3- string alfalfa, T&A, orchard grass, orchard timothy, orchard alfalfa, round bales and Tifton.
"We offer year-round consistently high-quality hay at affordable prices," Andrew said. "The hardest part of bringing hay to South Florida is making sure it's consistent. When nutrients and protein and sugar contents vary from shipment to shipment, horses can founder or colic. Keeping them on the same balanced diet is really important."
They go to great efforts to keep it fresh.
"All our hay comes directly from our farmers and is stored in an insulated 7,200-square-foot warehouse, not inside a hot semi. We don't carry any brokered hay. We're conveniently located close to White Fences, Deer Run, Fox Trail, Wildwood, and only a few minutes from Wellington," Andrew said. "We work very hard to keep our prices affordable. Our true passion is horses, and we love helping out fellow horse owners. We stand behind our hay and have a no-questions-asked return policy. We'll either issue credit or switch the hay out. Local delivery is free for orders over $75."
When the shopping plaza was originally built, it was in the middle of orange groves. Now, the trees are gone and the land is slated to become the development of Westlake. Andrew shrugged and said: "Growth is inevitable. We hope the new residents will make our community stronger and more successful. I like to look on the positive side. A lot of those people might be interested in giving their kids riding lessons or maybe boarding horses locally."
Andrew said that even though their customer base has morphed from a handful to a boatload, they still try to know all their customers, and customers' horses, by name. They like to keep up with each horse's needs so they can make good hay and feed recommendations. "We're a feed store for the people," he said.
Joannie Hopkins stopped by to say hi and place an order. "I'm super-excited they've opened the store," she said. "I've been dealing with them for about five years. The store is amazing."
She likes the quality products and convenient location.
"I'm buying all my supplies from them, buckets and fly spray and pitchforks," Joannie said. "Their hay is the best. They have very heavy bales, huge bales. I get the orchard alfalfa. My horse is a finicky eater, and he loves it. There's not one scrap left over. This is fabulous! I'm thrilled to officially welcome Turtle Creek to the neighborhood."
Since then, the customer base has grown steadily, and the store has been going strong. Andrew and crew have their hands full keeping up with everything, but they're managing just fine. They have a regular delivery schedule to different areas each day, and offer even more hay and feed choices.
To learn more, call the store at (561) 841-6159, Andrew at (561) 573-6269 or Danielle at (561) 346-2942.