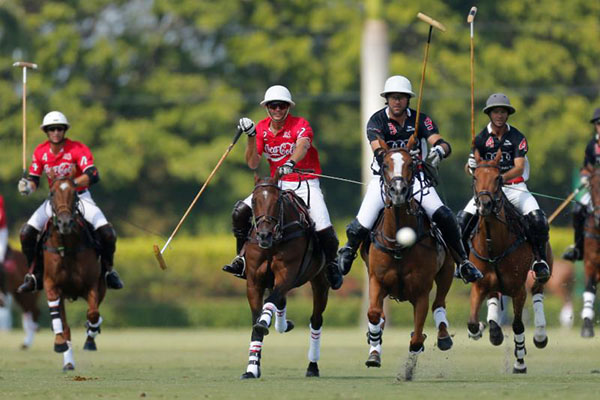 Valiente and Coca-Cola ruled their respective fields last Sunday in a USPA Gold Cup double-header at the International Polo Club Palm Beach. Valiente defeated Orchard Hill 14-10, while Coca-Cola bested Audi 11-8.
In Sunday's third game of the tournament, Orchard Hill faced off against a Valiente team that remains undefeated in 26-goal competition.
Robert Jornayvaz played in place of his father, patron Bob Jornayvaz, who was ill. The decision was made Friday to substitute the younger Jornayvaz, giving him just one day to practice with the team.
The substitution started Valiente, a 25-goal team because of its roster, with a goal on handicap to begin the game. Valiente applied the pressure early, with Matias Torres Zavaleta scoring the first goal of the game from the field. While the team controlled play in the first chukker, Valiente committed five fouls. Fortunately for Valiente, only one of those fouls resulted in a penalty attempt for Facundo Pieres, which he converted. Zavaleta added two more goals early in the second chukker, along with Adolfo Cambiaso.
It looked as if Valiente was going to run away with the game, but Orchard Hill quickly answered with Pieres scoring three straight goals to get his team back in the game. The day turned into a Facundo-fest for Orchard Hill, with Pieres scoring all of the team's goals.
Valiente has been consistent using Cambiaso at back, allowing Zavaleta and Diego Cavanagh to drive forward, and that was never more evident than in this game. Cambiaso only came forward when he saw an opening, shooting at goal five times in the game and converting three, while Zavaleta shot at goal eight times, converting six. Cambiaso was effective staying back, which prevented Orchard Hill from ever fully breaking away for runs in open play.
Usually a scoring threat, Polito Pieres was held scoreless, only shooting at goal once throughout the game. By minimizing Polito's impact on the game, Cambiaso and Valiente gave themselves an edge as Facundo Pieres had to generate all of the offense for Orchard Hill with Juan "Jota" Chavanne blocking downfield.
Facundo Pieres singlehandedly kept his team in the game. He took advantage of Valiente fouls to shoot a perfect six-for-six from the penalty line while also adding four goals from the field for a total of 10 goals on the day. Missed Orchard Hill chances, combined with Valiente's strong team performance, led by Zavaleta with six goals, propelled Valiente to the 14-10 victory and the top seed in this week's semifinals.
Both teams in the 3 p.m. featured match were looking to bounce back from their close opening game losses. It was all Coca-Cola early on, as the team shot at goal five times in the opening chukker. The team in red converted four of those chances, all courtesy of Julian de Lusarreta, who emerged as an offensive force that Audi didn't seem to have an answer for.
Just as de Lusarreta controlled play for Coca-Cola in the first chukker, Tomas Pieres broke out for Audi in the second, scoring three goals from the field to help get his team back within one goal.
Aside from that stretch, Coca-Cola capitalized on tight teamwork, with Miguel Novillo Astrada, Julio Arellano and de Lusarreta all driving forward at different times. The three players seemed to sense when the others were moving forward and positioned themselves accordingly. Patrona Gillian Johnston provided constant pressure downfield as a threat to receive a pass and score, which she did in the fifth chukker.
After a tough penalty-shooting day in the opening round of the Gold Cup, Audi struggled once again to convert penalty attempts, only making one of four opportunities. Fouls were a rare occurrence throughout the second half, with only three whistles blown, resulting in a back-and-forth contest with just 12 fouls called the entire game.
The pivotal point in the game came in the fourth chukker. Coca-Cola used halftime to regroup and dominated the fourth, scoring four times, while Audi wasn't able to manage a shot or penalty attempt. The 4-0 chukker for Coca-Cola gave the team a 9-6 lead, and there was no looking back. Coca-Cola finished with an 11-8 victory, led by de Lusarreta's six goals on the game.
Arellano was named MVP, while the Best Playing Pony award went to Cream, owned and played by de Lusarreta.
The 2017 USPA Gold Cup final is set for Sunday, March 26 at 3 p.m. All Gold Cup games are being live streamed on the USPA Polo Network at www.uspolo.org.
The polo season at IPC runs through April 23 with a wide array of social options available each Sunday afternoon. For more info., visit www.internationalpoloclub.com.
ABOVE: Julian de Lusarreta and Gonzalito Pieres take aim at the ball. Photo by David Lominska