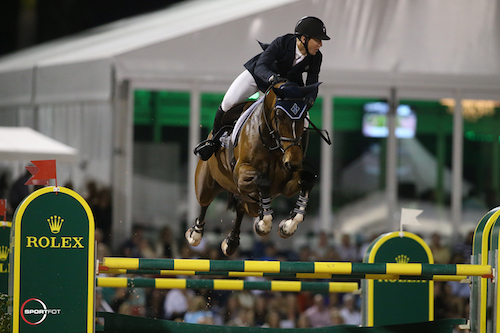 Two-time Olympic team gold medalist McLain Ward and superstar mare HH Azur jumped to victory in the $380,000 Suncast Grand Prix CSI 5* for the second year in a row last Saturday night at the Winter Equestrian Festival in Wellington. Eric Lamaze and Fine Lady 5 finished second, while Sergio Alvarez Moya and Arrayan placed third.
Thirty-nine entries started over course designer Anthony D'Ambrosio's first round track, with 12 combinations qualifying for the jump-off. The race over the short course was a showdown of epic proportions, with an impressive roster including eight Olympians, three of the top-ten ranked riders in the world and an Olympic champion going head-to-head riding their best horses.
Ward, riding Double H Farm's and Francois Mathy's HH Azur, jumped the winning round in 39.70 seconds. Lamaze, aboard Artisan Farms and Torrey Pines Stable's Fine Lady 5, stopped the clock in 40.07 seconds. Moya and Alvarez Moya Horses SL's Arrayan placed third in 40.10 seconds.
"I am thrilled with the mare," Ward said of his 2016 Olympic silver medalist mount, an 11-year-old Belgian Sport Horse "This is her first big start of the year. We gave her a little bit of a rest with the World Cup Finals in Omaha in mind. We have planned only two major weeks for her here. For myself, I have to say I was probably a bit motivated tonight. I have been on a little bit of a four-fault run and getting a little frustrated."
Lamaze, who was the 2008 Olympic champion, was aboard Fine Lady 5, the 14-year-old Hanoverian mare that he rode to an individual Olympic bronze medal at the 2016 Olympic games. The pair has already won big this winter, taking victory in week four's $130,000 Adequan Grand Prix CSI 3*, as well as week five's $130,000 Ruby et Violette WEF Challenge Cup Round 5.
"She has really jumped fantastic every time out," Lamaze said of his mount. "It was like she gave me all of the effort that she could. McLain was just that much better today. You might say he was lucky, but there was nothing lucky about the round that he had."
Finishing third, Moya brought his 12-year-old Dutch Warmblood gelding Arrayan to Wellington this winter as he prepares for the FEI World Cup Finals in five weeks. Moya showed in Wellington eight years ago, but decided to return this season to stay on the top of his game competing against many of the best in the world.
"There are great competitors here," Moya noted. "We have the Sunshine Tour in Spain that is not that far from my place, but it is a completely different level. Here is a bit more real competition. You have to go against these guys, and you have to try hard to do well in the grand prix."
Moya, who also jumped in last summer's Rio Olympics with top mount Carlo 273, purchased Arrayan 10 months ago. The Spanish champion built the gelding up from the two-star classes and was pleased with their night.
"I was super happy when I finished the jump-off today; the way I could ride in the jump-off," Moya said. "The turns suited me quite well. The left side is not very good; he gets very strong. I was really happy the way that he went."
Equestrian Sport Productions CEO Mark Bellissimo was pleased with the evening's competition.
"First and foremost, I want to thank the riders. That was a great show this evening. The crowd was about as good as we have had here. I think we have created a culture in Wellington that understands and appreciates show jumping," he said. "To get 12 straight weeks of pretty much packed houses is a great testament to the sport and the athletes that are here. I am very excited about that. I want to thank Tom Tisbo and the Tisbo family for the Suncast sponsorship, and thank you to Rolex. This circuit changed greatly when Rolex came into the picture, and WEF continues to showcase the best in the sport. We have just seen some great show jumping."
Cian O'Connor jumped into fourth place in 40.21 seconds with Adena Springs and Ronocco Jump Ltd.'s Good Luck. World number-one Daniel Deusser placed fifth with Stephex Stables' Cornet D'Amour in 41.05 seconds. Kevin Babington and Shorapur placed sixth in 41.37 seconds, and 18-year-old Emily Moffit (GBR) guided Poden Farms' Hilfiger van de Olmenhoeve to a seventh place finish in 45.87 seconds.
Also competing in the International Arena on Saturday, Kelsey Thatcher and Pony Lane Farm's Everything were the winners of the $15,000 SJHOF High Amateur-Owner Jumper Classic, presented by Engel & Völkers. Emily Perez and Paola 233 won the $10,000 SJHOF High Junior Jumper Classic, presented by Sleepy P Ranch.
The 12-week WEF circuit runs through April 2, featuring competition for hunters, jumpers and equitation, with more than $9 million in prize money up for grabs. For more information, visit www.pbiec.com.
ABOVE: Olympic medalist McLain Ward and HH Azur jump to victory in the $380,000 Suncast Grand Prix CSI 5*. Photo by Sportfot