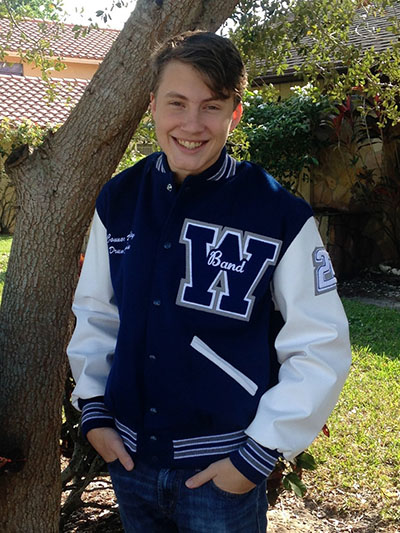 The Symphonic Band of the Palm Beaches will present its 35th annual scholarship concert, "Our Stars Keep Shining," on Saturday, March 18 at 7:30 p.m. at the Duncan Theatre in Lake Worth and Saturday, March 25 at 7:30 p.m. at the Eissey Campus Theatre in Palm Beach Gardens.
Proceeds from the concerts benefit the band's Rudolph von Unruh Memorial Scholarship Fund.
Featured at the concerts will be the remarkable young Mark Ligonde, Florida's #1 student jazz bassist, as well as premiers of the beautifully lyrical Yagisawa "Trumpet Concerto," Vittorio Monti's gypsy theme "Csárdás" for Marimba and Jezek's "Bugatti Step" for clarinet quartet.
Ligonde is a native of West Palm Beach who attended St. Clare Catholic School for elementary school and continued to the Bak School of the Arts for middle school. Now he is a senior at the Dreyfoos School of the Arts.
Ligonde started his music training in kindergarten and has studied piano, electric and double bass, and trombone. Ligonde has played in various venues across Palm Beach County, including the Palm Beach Dramaworks production of 1776 last summer.
In a collection of jazz/pop features, Ligonde teams up with Dan Zale on his bluesy Hammond B3 organ to play standards and accompany the full band in arrangements of "Basie Straight Ahead," Bill Chase's 1970s hit "Get It On," and Weather Report's jazz-fusion classic "Birdland." Hardly a genre is left untouched in this concert's rousing display of talent.
And for yet another Florida premier, classical saxophone artist Kyle Mechment will present Bernabe Sanchis' "Segaria." Additional musical highlights include Franz Strauss' "Nocturno" for French horn and "A Portrait of Charlie Chaplin."
Mechmet is a recent graduate from the University of Iowa, where he completed a master's degree in saxophone performance and pedagogy under Dr. Kenneth Tse. As a soloist, he made his debut with the FAU Symphony Orchestra performing Henri Tomasi's "Concerto for Saxophone" in February 2012. He has also performed numerous times in FAU's University Theater as a soloist, as well as various K-12 schools across Palm Beach County.
Also being featured is Wellington High School senior Connor Yeackley, a percussionist. A member of the band under the direction of Mary Oser, he has been involved in numerous performing ensembles, including the Wellington High School jazz band, wind ensemble and percussion ensemble.
Yeackley has performed with the Symphonic Band of the Palm Beaches for the past two years. He served as drum captain for the Mighty Wolverine Sound, leading the group to earn a superior rating at the Florida Bandmaster's Association Marching Performance Assessment.
As a soloist, Yeackley received a superior with distinction rating on his marimba solo sophomore year at the Florida State Solo and Ensemble Competition, and received four superior scores at the district level competition on all four of his performances this February. He is excited to attend Florida State University and study percussion performance next year.
Tickets to each performance are $18 and can be purchased by calling the Symphonic Band of the Palm Beaches at (561) 832-3115 or visiting www.symphonicband.org.
ABOVE: Connor Yeackley