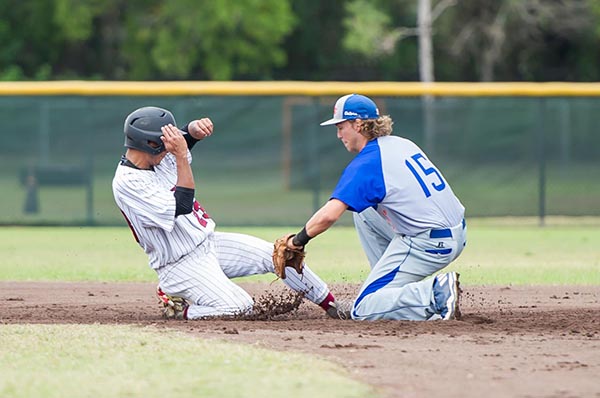 BY GENE NARDI
The Palm Beach Central High School varsity baseball team hosted district rival Palm Beach Gardens High School on Wednesday, April 12 and handled the Gators 7-2 to get back into the win column after a tough one-run home loss to Park Vista High School the day before.
It did not take long for the Broncos (13-8) to take an early two-run lead. In the bottom of the first inning, Joseph Corona struck a two-RBI double to put the Broncos out front. The Gators put an end to the Bronco reign at bat when Corona was later tagged out at third after an aggressive leadoff.
The Gators were idled in the second and third innings by a dominating Palm Beach Central defense. But in the top of the fourth inning, the Gators put together enough work at the plate to tie the game, plating two runs.
The offensive push put pressure on the Bronco batters heading into the bottom of the fourth inning. The Broncos responded, and James Meyers hit an RBI single to reclaim the lead 3-2.
In the top of the fifth inning, the Palm Beach Central defense was able to shut down the Gators at the plate to maintain the lead. The Broncos continued their success at the turn of the inning. Brandon Liberto hit a double that drove out into deep center field, falling just shy of sailing over the fence.
Brendan Power then added to the assault when he struck an RBI double to extend the Bronco lead to 4-2 to close out the fifth inning.
The Broncos added three more runs to put the game out of reach for the Gators. Robert Herrera, Power and Pierson Reynolds all hit singles that each sent in a run to give Palm Beach Central a five-run lead, 7-2, heading into the top of the seventh inning.
Palm Beach Gardens could not drive through the tough Bronco defense in the final inning, and the Broncos closed out the game with the 7-2 margin.
With the victory, the Broncos improved to 13-8 on the season, and 3-2 in the district behind district leader Jupiter High School.
Palm Beach Central's Ivan Suarez was three-for-three with two singles and a double. Corona is also credited with a two-run double for the Broncos, and pitcher Cameron Lauer pitched a complete game for the Broncos.
ABOVE: Palm Beach Central's Ivan Suarez slides back into second base as Gator second baseman Nick Presto attempts to tag him.