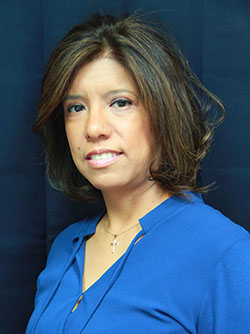 Palm Beach Atlantic University recently announced that the first Jacobs Family Foundation Scholarship has been awarded to Joyce Villacis. Established in 2016, the scholarship assists Wellington residents seeking to complete college or pursue graduate degrees at the university.
The Jacobs Family Foundation has provided scholarships totaling $30,000 over three years. To qualify, Wellington residents with financial need must be enrolled in the university's bachelor's degree or graduate programs offered by the MacArthur School of Leadership.
Villacis graduated from Palm Beach Atlantic in 2016 with a bachelor's degree in organizational management from the MacArthur School of Leadership. With assistance from the Jacobs Family Foundation Scholarship, she is able to pursue her master's degree in leadership.
"I chose to raise our family in Wellington and am grateful to have a foundation in our community that supports adult education," Villacis said. "I was hesitant to add another expense to our household budget, but this scholarship is allowing me to further my education and continue to support my family."
University officials are pleased to be able to award the scholarship.
"While adults see the career advancing opportunities that a master's degree provides, the lack of financial assistance holds them back from enrolling," Vice President for Admissions Tim Worley said. "We are excited to award the first Jacobs Family Foundation Scholarship to Joyce Villacis and look forward to offering this opportunity to other Wellington residents."
The Jacobs Family Foundation of Wellington was formed to facilitate the family's longstanding commitment to philanthropic efforts in and around Wellington. The foundation is focused on enabling community programs that will have a material, positive impact on the Wellington community. Through quarterly grants, it supports programs for education, athletics, at-risk youth and preservation in and around Wellington. For additional information, visit www.jffwellington.org or call (561) 803-2122.
Palm Beach Atlantic University is a private, independent university offering undergraduate, graduate and professional degrees. The university is dedicated to the integration of Christian principles to prepare students for learning, leadership and service.
ABOVE: Joyce Villacis