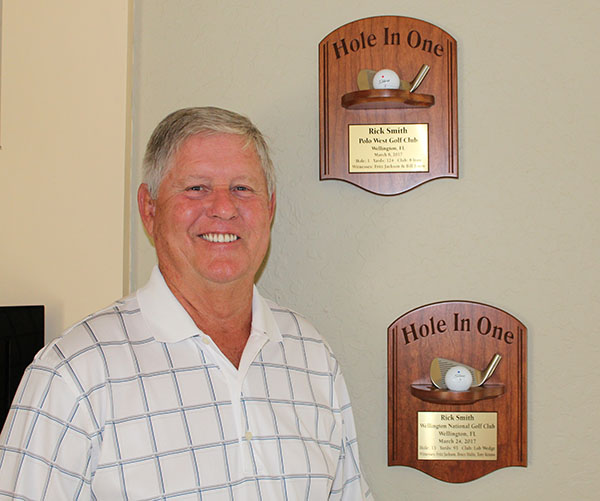 Any golfer in the world can go a lifetime playing the game, practicing and observing to sharpen his or her skills — and even after a professional career has ended, making a hole-in-one can still be missing from the résumé.
But Wellington golfer Rick Smith had the joy and experience of making two hole-in-one shots on two separate occasions during the month of March.
Smith made a hole-in-one on his residential golf course at Polo West on Wednesday, March 8, and then again at the Wellington National Golf Club on Friday, March 24.
"I knew when I struck the ball, I hit it well, and of course you look up, and it's on a dead line," Smith said. "Sure enough, it hit about probably six yards just shy of the pin and rolled and disappeared."
On the day of his first 124-yard sinker, Smith said he had been running late, and didn't get to go to the range for a warmup like he normally would.
"I went to the first tee, and normally we'll hit two balls off the first tee to get everybody loose. Fortunately, it was the first ball, which made it even better. I thought, 'a mulligan, that wouldn't work,'" Smith said.
Originally, Smith didn't have great sight of the ball, and he thought it might have rolled past the green after the landing.
"It was on kind of a slant on the right side of the green, and I'm thinking, 'Oh, maybe it rolled by. And, the other guys were screaming, 'No, it went in the hole!'"
His close friend, Fritz Jackson, witnessed both of Smith's shots. They play in a small club tournament every Wednesday at Polo West with friends and other members.
"I was standing about eight feet behind because I always watch his shots. I watched the whole flight of the ball going up, and it was dead on the whole way, and I said, 'That's a nice shot,'" Jackson recalled. "I shook his hand, and then we went up there, and sure enough, it was in the bottom of the cup."
For the rest of the game, he was filled with adrenaline and didn't play as well as he normally would, Smith said.
"It didn't matter. Rick got a hole-in-one, so who cared?" Jackson said of his own game.
After his first hole-in-one, Smith called his youngest son, an avid golfer, to break the good news.
"He said, 'Dad, don't be surprised. I've seen it before; people go years and years, finally they'll get one, and it comes in twos and threes," Smith said.
Smith's son must have worked a little magic for his father, because a little more than a fortnight later, Smith sunk a 93-yard shot at the 13th hole of Wellington National.
"There again, when I struck it, it felt good, and it was on a really good line, and it hit and rolled in, probably about three feet short," Smith recalled.
Just like the first, he had Jackson there to be a witness for number two.
"It was just exciting," Jackson said. "I used to think I was top dog because I was the only one in our little group who had a hole-in-one, but then he nails me and pops two of them. I was happy as heck for him."
Smith and his wife, Janet, have lived in Wellington for the past six years. Before moving to the village from Kansas City, Smith didn't pick up a golf club to play very often, if ever. He even had a shoulder injury before settling down in Florida.
"Just before we moved down here, I had to have rotator cuff surgery, and had really just started to play golf regularly, and the first thing the doctor asked me was, 'Do you play golf?'" Smith said. "And, he said, 'You better hold off for at least six to eight months because of that rotator.'"
It wasn't until the "summer of golf" four years ago with Fritz Jackson that Smith began to play almost daily.
"He and I, every day for one summer, we met at the number one tee there, and we would go, and I mean literally every day, and play," Smith said.
In Smith's case, practice made perfect — and it paid off well with two perfect shots in March 2017.
Jackson said it's something you never forget.
"I've had one, and that was about 35 years ago, and you remember the shot so vividly," Jackson said. "A lot of people golf their whole lifetime and never get one… but it couldn't have happened to a nicer guy."
ABOVE: Wellington resident Rick Smith with plaques denoting his hole-in-one successes.