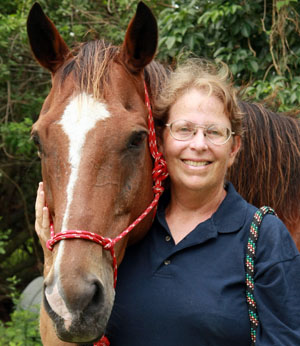 TALES FROM THE TRAILS
Jim Masterson, the internationally renowned equine massage therapist and creator of the Masterson Method, recently spent a week teaching seminars locally. His advanced five-day course ran March 20-24, followed by a weekend workshop March 25-26, limited to 14 participants who learned the basic techniques.
The Masterson Method is a unique, interactive method of equine massage where participants use the horse's responses to find and release accumulated tension. The horse actively participates in the process, so it's something done with, rather than to, the horse. In fact, if the horse doesn't participate, it doesn't work.
Masterson was the equine massage therapist for the 2006, 2008, 2010, 2012 and 2014 USET Endurance teams, and for competitors in the FEI World Cup, Pan American Games and World Equestrian Games. He created his method in 1997 and now travels the world teaching seminars and advanced courses to horse owners, trainers and therapists.
The advanced five-day course is open to anyone with experience handling horses and a basic knowledge of equine anatomy. It is also the primary course for the certification program, which Masterson began offering in 2008.
The March workshop was conducted at a different barn each day in Wellington, Lake Worth, Boynton Beach and Coconut Creek. I caught up with them at the lovely and tranquil Fox Stone Farm, a hunter barn they've used for several previous workshops. The beautiful grounds were very open and welcoming to Masterson and the eight participants.
"We teach courses in Florida a few times a year," he said. "Especially with the circuit, there are many horses who can benefit from this work, and thus are able to teach therapists new things. This method is unique because it's so interactive."
A therapist has to read what the horse tells you in order to know what to do.
"You have to pay close attention. Responses can be very subtle — an eye blink, a weight shift, a change in breathing," Masterson explained. "They're all clues to where the horse is holding tension. This isn't like traditional massage. We use a very light touch. It's highly effective, fun, and improves your communication and relationship with your horse."
He showed me how to do a diagnostic exercise, lightly running my fingers down the horse's top line (actually, just off center) checking its bladder meridian with what he called an "air gap" — barely touching the horse. He said one of his goals was to teach enough people how to use this specific technique that "every horse on the planet can get its bladder meridian done." Each time the horse blinked or otherwise revealed a spot of concern, I returned to that spot and simply waited, barely applying any pressure, until there was a release.
"You bring awareness to trouble spots," Masterson explained. "By not pushing or using pressure, the horse can't block it out or protect it by pushing back. The horse does the work, becoming aware of each problem spot and finding a way to correct it."
Other techniques involve asking the horse to move body parts, his neck or legs, for example, in certain ways. Everything is always done in a relaxed state.
At the start of each day, Masterson lectured and explained what they'd be doing, demonstrating specific techniques. The participants then paired up and headed off to try them out on the horses. They use different barns each day to find different problems and, also, so as not to overwhelm the horses. Some horses had specific problems or injuries. For others, it was just "let's see what we find." Afterward, the group came back together to discuss what they'd experienced.
Throughout each session, Masterson observed and sometimes helped out, showing his students what to do. Each horse is different. Some are stoic and mask pain, others more open and obvious about what hurts. As he explained, however, if you keep your touch light enough and wait long enough, the horse must release the tension.
Horses typically compensate when something's off, so a problem in a front right hoof may show up as a lameness in a hind left hip. Diagnosing the root cause and also treating all the affected areas is key. The cause may be something as simple as bad saddle fit or an abscess, or much harder to diagnose.
"Doing this is a great way to interact with your horse and improve your communication and relationship," Masterson said. "Anyone can do it. You don't have to learn anatomy or name every bone. It's user-friendly and easy to learn. Every horse can benefit from this."
Kat Romano from Delray Beach, one of the students, was working on Klooney, a tall bay gelding. "He's very tight and won't allow me to position his leg," she told Masterson. "He keeps snatching it back."
"Go slower, relax your arms," he advised, showing her how to do a correct neck flexion. "Soften, see him come down? If he pulls up and you pull down, he'll keep going up. Just stay with him and don't pull. Lift gently, little by little. Be very light. Find the spot where he relaxes and invite him down. You're very tense, and he feels that. Stay loose all the way through."
She stepped back and shook out the tension in her arms, neck and shoulders, then tried it again, listening to Masterson's suggestions. The horse relaxed, his eye went dreamy. Success!
Mary Last, certified last year, works as a massage therapist. At this clinic, she coached, assisting the students. "Helping teach others is really rewarding," she said. "It also reinforces Jim's teachings for me. Doing this is a never-ending journey of learning and improving. I love fostering growth in the students and watching them advance. It's very gratifying. I love the light-bulb moments. One of the things I love most about Jim's method is the 'less is more' concept. Afterward, the horses always feel and move better. There's a huge difference."
For more information, visit www.mastersonmethod.com.