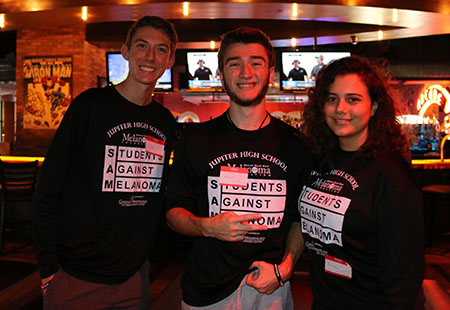 The Richard David Kann Melanoma Foundation recently announced that it has received a grant of $25,000 from the Quantum Foundation to support its student-based program called Students Against Melanoma (SAM) clubs in middle school and high schools.
SAM empowers young people to lead education and prevention initiatives in their schools and communities, and encourages all youth to get involved and be valued as a contributing member of their community. Its approach involves students delivering sun safety messages to their peers through school and community-based activities, including their SAMposium.
Projects include peer-led presentations about sun safety and skin cancer prevention, teen workshops, awareness-raising and early detection activities and legislative work.
The School District of Palm Beach County supports the program, and SAM has won several American Academy of Dermatology Gold Triangle awards.
The Richard David Kann Melanoma Foundation encourages the community to be part of a renewed effort to decrease the mortality associated with skin cancer.
"We are extremely grateful to the Quantum Foundation for this generous grant," said Deborah Kann Schwarzberg, founder and president of the foundation. "These additional funds will help us continue to educate students throughout Palm Beach County on the important message of sun safety, early detection and skin cancer prevention."
For more information, visit www.melanomafoundation.com.
ABOVE: Drew Dubauskas, Michael Colosi and Alexsia Cassidy of SAM Club.