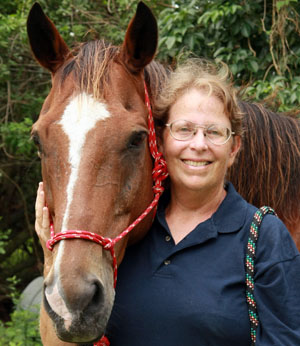 TALES FROM THE TRAILS
Everyone loves a good tack sale, and there's a big one just on the horizon. On Saturday, April 29, the Vinceremos Therapeutic Riding Center will host another one of its famous blowout tack sales from 9 a.m. to 1 p.m.
During the year, Vinceremos accepts donations of quality used items that are in good shape and free from problems that could cause health or safety issues. Some of the items they use in the program, and the excess is stored until there's enough for a sale. The proceeds go toward supporting the farm and horses.
Vinceremos has been serving people with disabilities in Palm Beach County for 35 years. Programs include therapeutic riding, hippotherapy, therapeutic carriage driving and equine-assisted learning. The nonprofit's mission is to expand and enrich the lives, bodies and spirits of people with physical, cognitive and emotional disabilities through these programs, while serving the therapeutic riding profession through training and education.
"We have so much stuff stored up for this sale," Barn Manager Michelle Bohl said. "This time of year, a lot of the show barns head back home. They clean out their tack rooms and donate generously. Our sales are a lot of fun. You get to find great bargains, meet people and help a worthy cause."
There will be something for every horse lover.
"Right now, our storage space is crammed full of saddles of all sorts, bridles, bits, boots, buckets, saddle pads, blankets, sheets, coolers, spurs, britches, shirts, jackets, crops, halters, lead ropes, jump standards, poles — pretty much anything and everything," she said. "Odds and ends. All the bits and pieces. Some's new, some's used. We accept cash and credit cards. Come early, and see what you can find."
I can testify to the great variety of items available. I've been to many Vinceremos sales and found useful treasures. A large halter for a big-headed mare. Extra buckets. A grooming caddy. Eight PVC jump standards. Can one ever have enough extra pairs of reins? Stirrup leathers? Girths?
And, always, I enjoy the thrill of the hunt, wandering, looking, finding things I didn't know I couldn't live without, and meeting up with people, including some I see at all the sales. It's a great deal of fun, plus you'll find terrific deals on all those must-have items. Circle the date on your calendar.
While the tack sale is open to all, Vinceremos is also offering a new program this year, open only to veterans and their families. Freedom Reins began this week and runs through May 24. Meetings are held every Wednesday afternoon at 3:30 p.m.
Freedom Reins is a free program for veterans and their family members who may find readjusting to daily routines challenging. The six-week program partners participants with horses to help them recognize patterns and barriers, and build on personal strengths, empowering them to take life-changing actions. The sessions focus on building relationships with the horses and breaking down feelings of estrangement or detachment, and are guided by a mental health professional.
"This program is new this year at Vinceremos," said Susan Guinan, director of development. "It's equine-assisted learning using horses. The program is geared toward helping veterans and their family members meet daily challenges that may have come about through their service to our country. We've offered similar programs in the past to young people, but this is the first time we've done one for veterans."
The sessions vary, depending on the needs of the participants. Drawing on what's happening in their lives, clients can present different challenges on different days. Good weeks. Bad weeks. The experiential learning unfolds as the sessions run.
Horses, too, can be unpredictable and act differently each time, making them a potent symbol for life. No one knows what each day may bring, and practicing possible scenarios and solutions in a controlled setting under knowledgeable, professional guidance is a great way to learn flexibility.
"Self-regulation is an important skill," Guinan said. "We help our clients through a variety of difficult or stressful situations in class, then teach them how to transfer successful coping skills to similar real-life situations. Horses are perfect foils. They're nonjudgmental and just want to be your partner. Some clients prefer to simply brush their horses, interacting with them in this calming way. Again, the class is self-regulating. Clients can explore different options to find what works for them or what they need each week."
Dealing with unforeseen situations in the program mirrors how people cope with life's unpredictability. "Life doesn't always go along according to our plans," Guinan said. "Plans must change as situations change. The facilitator chooses a different theme for each week's session, but the objectives may shift, depending upon the participants' needs. Sometimes skills need to be revisited, or sometimes there are huge breakthroughs."
One example of an effective exercise is one in which someone who tends to be a bully has to ask for help from someone who often finds himself being bullied. The changed dynamic can be very powerful and give each participant a changed perspective and empathy. "Trust is a great skill to work on," Guinan said.
Vinceremos is located at 13300 Sixth Court North in Loxahatchee Groves. For more information, call (561) 792-9900, or visit www.vinceremos.org.