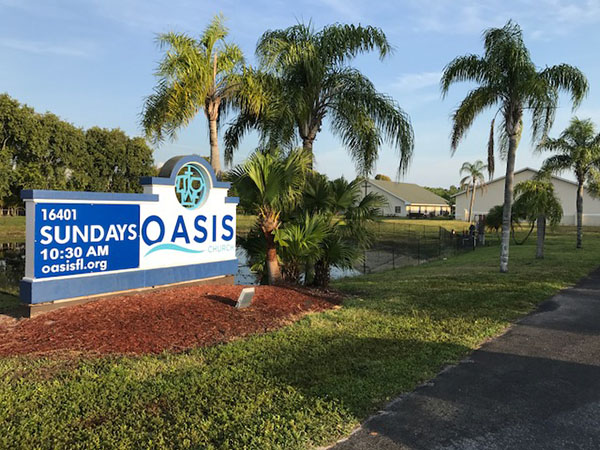 After serving the community for 28 years as Palms West Alliance Church, the congregation now has a new name: Oasis Church.
The church began in 1989 with a handful of people sitting at tables and manning a bank of phones. They called hundreds of homes in the Wellington, Royal Palm Beach and Acreage/Loxahatchee areas to invite people to the new church.
Later that year, the church bought five acres of property at 16401 Southern Blvd., just west of HotShots Paintball. After the first building was completed, the first service was held on Easter Sunday in 1993. In 2000, a second, larger building was completed to house the new sanctuary, fellowship hall and kitchen.
The new name, Oasis Church, represents a new image for the congregation. "We're a diverse people, united in refreshing community, reaching out with hope in Christ," Lead Pastor Randy Clarke said. "We're still part of the global ministry of the Christian & Missionary Alliance, but our new name communicates better who we are right here in our community — an oasis of refreshing."
The church is multi-ethnic with worship led by Haitian-born Pastor Carl Joseph, whose Christian band, Alabanza, is well-known in the Haitian community. The church's new name and logo reflect the way in which the church family relates to each other and the community.
"We want to be a place of spiritual refreshing, healing, restoration and abundant life for people from all ethnic groups and all walks of life," Clarke said. "It's what we believe our church will continue to be as the western communities grow with new homes, people and businesses."
On Easter Sunday, April 16, the church is providing a free breakfast to the community at 9:30 a.m., followed by a service at 10:30 a.m.
For more information, call (561) 791-0524 or visit www.oasisfl.org.
ABOVE: A new sign shows the name change at Oasis Church.