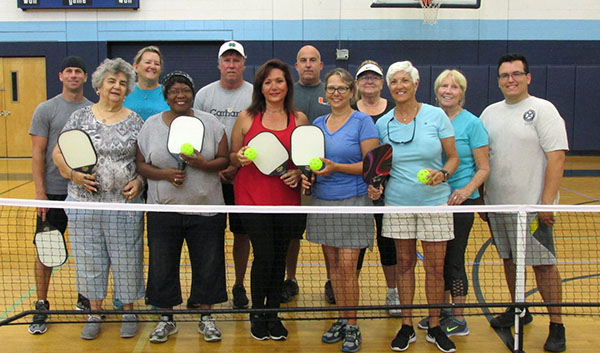 It's time to get pickled in Royal Palm Beach! Pickleball is the newest sports craze, and a weekly league is beginning on Wednesday, May 3 from 9:30 to 11:30 a.m. at the Royal Palm Beach Recreation Center, located at 100 Sweet Bay Lane.
The activity is free for Royal Palm Beach residents, and there is a $5 fee for non-residents. Beginners and experienced players of all ages are welcome.
Pickleball is a combination of tennis, badminton and table tennis. Indoor pickleball is played on a badminton court in a gym with a racquet and wiffle ball. It is a low-impact, low-risk activity that is fun for adults of all ages.
Anne Kingston, Jamie Cleary and Diana Walker organized and tutored almost two dozen enthusiasts who attended an instructional session on April 11.
"It's a fun game and a good workout," said Kingston, an avid tennis player who was wearing a knee brace. "Pickleball is easy to learn and easy to play."
Like tennis, pickleball is played either as doubles or singles, although doubles seems more common. Unlike tennis, the same size playing area and rules are used for both singles and doubles. Also, the serve must be made underhand, and there is a no-volley zone near the net, referred to as "the kitchen," mainly for player safety. Also, points can only be scored by the side that serves.
For more information about this program, call Jeannine Delgardio at the Royal Palm Beach Recreation Center at (561) 790-5124.
ABOVE: Players take part in Royal Palm Beach's new pickleball program.