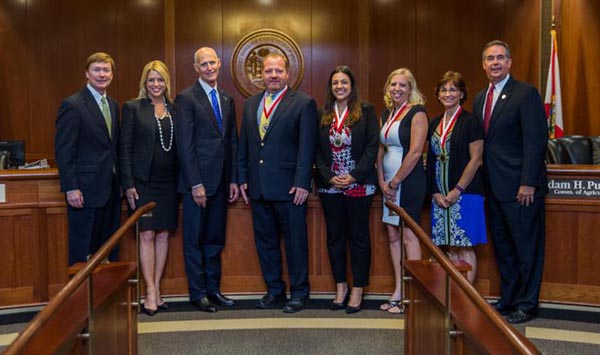 Dr. Melissa Garcia, who was named Florida's School Counselor of the Year, was honored recently with the Governor's Shine Award.
Garcia, a Wellington High School graduate, has spent her career in Palm Beach County schools gaining experience to help high school students.
Garcia did her graduate student work at Seminole Ridge High School, then worked as a counselor at Lake Worth High School and Santaluces High School before returning to Seminole Ridge, where she has been a counselor for the past three years.
Upon learning that she was selected as Florida's School Counselor of the Year, Garcia credited the team at Seminole Ridge. "I am just doing my job," she said. "It doesn't feel like I am going above and beyond. We just do what we have to make it happen, and we do it together."
ABOVE: Dr. Melissa Garcia (fifth from the left) being honored by Gov. Rick Scott and the Florida Cabinet.