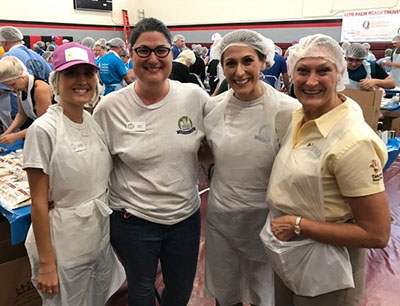 The West Palm Beach Rotary Club and the Palm Beach County Food Bank partnered with 400 volunteers from local organizations, businesses and community groups to package 115,104 meals at the fourth annual Feed Palm Beach County Day, held March 25 at Gaines Park in West Palm Beach. The meals were distributed to the hungry in the community by the Palm Beach County Food Bank through more than 100 local nonprofit organizations.
"With one in six children in Palm Beach County at risk of going to bed hungry every night, we know how important this effort is to our community," Feed Palm Beach County Day Chair and West Palm Beach Rotary Club member Tony Lofaso said. "Thank you to all of the great volunteers who came out and made this event a success again this year."
Palm Beach County Food Bank Executive Director Karen Erren thanked the sponsors who made the event possible.
"The partnerships with the West Palm Beach Rotary Club and all of the sponsors and volunteers is a testament to how caring this community is for those who are in need," she said. "The Palm Beach County Food Bank is grateful for this support on behalf of those we serve."
Sponsors of Feed Palm Beach County Day were the West Palm Beach Rotary Club Charity Fund, the Quantum Foundation, TBC Group-Tire Kingdom, Derrick Hoskins of K&M Electric, IBM Southeast Credit Union, Temple Judea, Cal Cearley of Palm Beach Community Bank, the Muslim Community of Palm Beach County, Lesser Lesser Landy & Smith PLLC, Richard Linn and Missy Duffy, David Doran of Surplus Giant, Jack Lansing of UBS, GT Supplies Inc., Tony and Blanca Lofaso, Jim Sugarman and Cliff Fritts, Lytal Reiter Smith Ivey and Fronrath, David and Kay Dunn, the Professional Firefighters/Paramedics Benevolent Fund, Charles Sellari-Divine, Blalock Martin & Sellari LLC CPA, the Wellington Rotary Club, the Sovereign Order of St. John of Jerusalem Knights Hospitaller, Searcy Denney Barnhard & Shipley PA, Michelle Gurto, Eric Severson of Burns & Severson PA, Regina Bedoya, Emory and Lisa Rogers, Alejandro Lofaso, Maryann Wnukowski of SB Atlantic Communications, the Palm Beach County Sheriff's Foundation, the West Palm Beach Police Foundation, John Endruschat, Tom and Sherry Eastwood, West Palm Beach City Commissioners Shanon Materio and Cory Neering, and Owen O'Neill. In kind support was provided by the City of West Palm Beach, Jerry Spencer of U & Me Moving & Storage and J.T. Tatem of Signarama.
The Palm Beach County Food Bank is locally led and governed and is solely focused on the needs of Palm Beach County residents.
For more information, visit www.pbcfoodbank.org or call (561) 670-2518, ext. 303.
ABOVE: Caroline Pollifrone, Karen Erren, Britnye Underwood and Kathy Hamilton help out at Feed Palm Beach County Day.