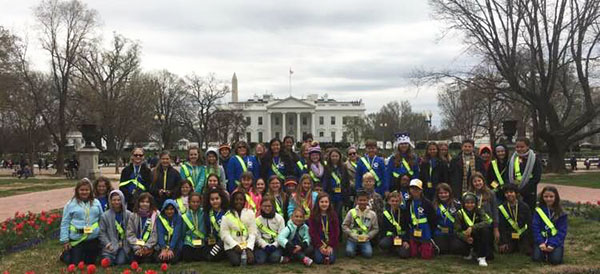 Wellington Elementary School's fifth-grade safety patrol recently arrived back from Washington, D.C. after an amazing four-day trip. Not only did they see the historical sites that they have studied in elementary school, they created memories that will last a lifetime.
The patrols and chaperones toured Colonial Williamsburg, the Jamestown settlement, Mount Vernon, the Holocaust Memorial Museum, the Lincoln Memorial, the FDR Memorial, the Thomas Jefferson Memorial, the United States Marine Corps Memorial, the Vietnam Veterans Memorial, the Air Force Memorial, the Korean War Memorial, the Martin Luther King Jr. Memorial, the Vietnam Women's Memorial, the Albert Einstein Memorial, the Air & Space Museum, the U.S. Capitol Building, and of course, the White House.
To become a safety patrol member, students must be in fifth grade, be responsible, safe, resilient, attend meetings, possess good behavior, arrive early to school and stay after for duties, and be a role model for younger children. Safety patrol members have an option to go on the trip. The school thanks chaperones Jessica Myerscough, Jennifer Allen, Melissa Perry, Dave Morrison, Nick Fabra, Kristine Frey and Ashley Schroth.
ABOVE: Wellington Elementary School's safety patrol members in front of the White House.