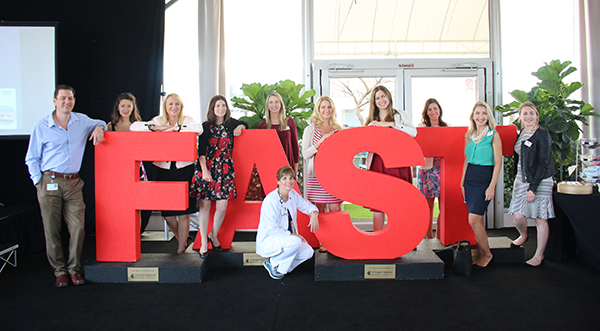 The final Lunch & Learn event during the Winter Equestrian Festival took place Thursday, March 30 at the Palm Beach International Equestrian Center. Wellington Regional Medical Center's Vice Chief of Staff and Chairman of the Emergency Department Dr. Adam Bromberg discussed the signs and symptoms of stroke.
"We're working together to end stroke," Wellington Regional Medical Center CEO Robbin Lee said. "We aim to educate people that stroke is largely preventable, treatable and beatable."
Stroke is a top cause of death and the leading cause of disability in the United States, she said. However, stroke is often not considered a major health concern.
In order to educate and remind the community, WRMC brought along giant letters spelling FAST, which provides a means to identifying the sudden signs of stroke.
"F" stands for face drooping. If the person's face suddenly is numb, or droops, and they aren't smiling as they typically would, that can be a sign of stroke. "A" is for another sign, arm numbness or weakness. Ask the person to raise both of their arms. If one arm drifts downward, that can be a sign of stroke.
"S" is for speech difficulty. If the person's speech is suddenly slurred, or they aren't able to repeat simple sentences, they might be having speech difficulty, yet another sign of stroke. If someone displays any of these symptoms, that's where "T" comes in for "time to call 9-1-1" and get the person to the hospital immediately.
The possibility of a stroke should not be dismissed if any of the symptoms go away. For more information, visit www.strokeassociation.org/warningsigns.
"Try to note the time. Our intervention is predicated on how long the symptoms have been present," Lee said.
Recently, WRMC became a comprehensive stroke center, making it one of the 40 hospitals in Florida with an advanced neurointerventional team able to treat strokes.
A common description they hear, Lee said, is "I feel weird."
With heart attacks, or myocardial infarctions, and strokes, a blood vessel, either to the heart or brain, is blocked, Bromberg said.
"Blood cannot get anywhere past that, then that part of the heart doesn't get oxygen or any kind of blood flow, which causes the damage," he said.
Worldwide, approximately 8.6 million people had myocardial infarctions in 2013, and they occur about twice as often in men as in women. Each year in the U.S., approximately 1 million people have heart attacks. Common symptoms, he explained, are chest pain or discomfort, radiating pain, discomfort that feels like heartburn, difficulty breathing, nausea, sweatiness or feeling tired.
Some of the risks to having heart disease include high blood pressure, smoking, diabetes, obesity, lack of exercise, high cholesterol, excessive alcohol intake and poor diet.
Stroke, on the other hand, is when poor blood flow to the brain results in cellular death. There are two types of strokes, ischemic, due to a lack of blood flow, and hemorrhagic, which is due to bleeding. Hemorrhagic strokes can also be associated with a headache, Bromberg explained.
"There are two strips in the brain, the somatosensory strip and the motor strip," Bromberg said. "It's amazing how little a part of the brain controls all of our movement and thought… one strip of the brain controls all of the movement in the body."
One small blood vessel can cause a stroke.
In 2013, approximately 10.3 million people had a stroke.
Some of the risk factors associated with strokes are similar to those of a heart attack and include smoking, obesity, diabetes and high blood cholesterol.
"It's all the same thing. We're messing with the inside of a blood vessel," Bromberg said.
Time is of the essence with strokes, and treatment is more effective the earlier it is used. Blood clots can be treated through surgery, and technology has advanced incredibly in recent years for detection, he explained.
"The goal for all of this, though, is to decrease the damage done," Bromberg said. "This FAST concept is so important to us."
Each side of the brain, he said, controls the opposite side of the body. For instance, if you can't move your right arm, there's a problem with the left side of your brain. If you can't move your left arm, there's a problem with the right side of your brain.
"I know which vessel to start going after," he said.
WRMC is a comprehensive stroke center, rather than a primary stroke center. Now, the hospital can do intervention and is able to do more to help patients with clots.
Lee is excited for the added services to the community and thankful for the community's support.
"We're very excited that we opened our comprehensive stroke center in September. We've seen a lot of patients through the neurointerveinal lab," Lee said. "We have an amazing team, and we've already saved many patients' lives, which makes it all worth it."
For anyone experiencing stroke symptoms, or concerned that they might be experiencing stroke symptoms, Lee suggests coming to the hospital right away.
"If you think you're having any symptoms, you show up in the emergency room and we will screen you and determine if it is appropriate for you to go to the neurointerventional lab, get medication, or maybe just be observed. You don't have to worry about it," she said. "Just show up, and we'll figure it out."
Wellington Regional Medical Center is located at 10101 W. Forest Hill Blvd. in Wellington. For more info., call (561) 798-8500 or visit www.wellingtonregional.com.
ABOVE: Officials from Wellington Regional Medical Center and the American Heart Association/American Stroke Association with the FAST letters designed to remind people about the signs of stroke.