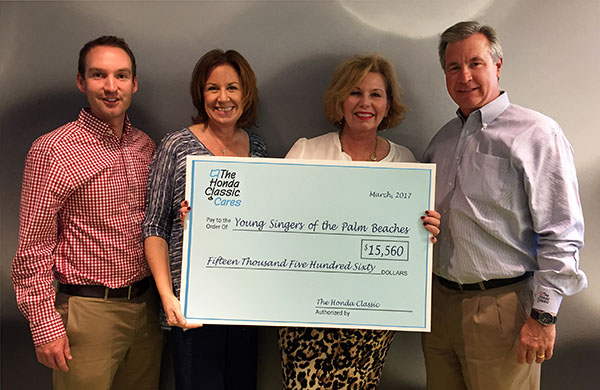 For nine years, the Young Singers of the Palm Beaches and the Honda Classic have teamed up to provide arts benefits to local children. This year, their partnership was a sure-fire hole-in-one. Receiving more than $15,000 in grant money from the Honda Classic Cares, the Young Singers of the Palm Beaches will be able to provide multiple scholarships to children in Palm Beach County.
The relationship between the two organizations began years ago when the Young Singers of the Palm Beaches was a participant in Birdies for Children, a program of the Honda Classic that benefits local charities. For the past several years, the Honda Classic Cares host organization, Children's Healthcare Charities, has provided grants to nonprofits that enhance the health and welfare of children in Palm Beach County, and the Young Singers has been a recipient of that grant.
In appreciation, Young Singers has manned concession booths at the Honda Classic, providing volunteers to fill shifts over the week-long tournament, and exchanging goodwill throughout the community.
The Honda Classic is a world-renowned golf tournament staged yearly at PGA National.
The Young Singers of the Palm Beaches is a community children's choir, currently in its 14th season. Its core program, based at the Kravis Center for the Performing Arts, serves more than 350 singers in six choirs. The Choir in the Glades after-school and summer outreach programs provide an additional 1,200 Palm Beach County children with vocal and music enrichment. For more info., visit www.yspb.org.
ABOVE: Andrew George, Honda Classic tournament director; Dana Johnson, Honda Classic director of community relations; Young Singers CEO Beth Clark; and Ken Kennerly, Honda Classic executive director.